GOP Candidate Responds to Controversy Over Enrolling His Kids in Medicaid He Opposes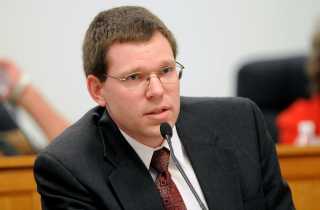 A Republican candidate for Idaho State Representative recently came under fire for revelations that he enrolled several of his children in the Medicaid program he has been outspoken about abolishing. In response, the father of ten took to his website to pen a letter rebuking the critics and explaining his own "hypocrisy."
Earlier this month, NBC News reported that the candidate, Greg Collett, 41, is the father of ten children, and several of them are enrolled in Medicaid, the joint state-federal program providing healthcare to low-income families.
Seeing as he believes in abolishing programs like Medicaid, Collett received negative comments accusing him of hypocrisy for enrolling his children in the program anyway. In response, he posted a statement to his website, explaining his decisions.
He began the lengthy letter by summarizing his own political beliefs. "Government is force," he wrote, "and using government to force men to do good works takes away the agency of man. When government is used to take money from one citizen and give it to another (even for a seemingly good cause) it simply amounts to legal plunder, making government, and those that support it, the criminal. Just as we cannot preemptively interfere in the lives of others, we should not do so using government. We need to understand that a properly limited government must be reactive in nature, not proactive. These principles apply to government at all levels. "
And after several notes about his thoughts on public education and the size of government today, Collett addressed the accusations of hypocrisy: "Yes, I participate in government programs of which I adamantly oppose," he wrote, clarifying that participation does not equal support.
"For instance, I participate in government programs in order to stay out of the courts, or jail, so that I can take care of my family," he explained. "Other things I do to avoid fines or for other financial reasons; and some are simply because it is the only practical choice. With each situation, I have to evaluate the consequences of participating or not participating."
Collett then outlined a handful of government programs he opposes but also utilizes:
I am against marriage licenses, but I still got one to get married; I am against the foster care program, but I became a foster parent; I am against property taxes, but I own property and pay the tax; I am against federal ownership of land by the Forest Service and BLM, but I use the land for hiking, backpacking, camping, and fishing; I am against national parks, but I visit them; I am against driver's licenses, vehicle registration, license plates, and mandated liability insurance, but I comply with all of them to drive; I am against public funding of transportation systems, but I still use them…
During an aside, the GOP candidate scorned fellow Republicans who "attack those who use welfare programs," instead suggesting they aim their frustrations at the politicians who vote for such uses of government money.
"For those of you who insist that I take my kids of [sic] Medicaid, please feel free to get them off by terminating the entire program," he continued. "I would be the most thrilled if that were to happen since, as with all public welfare programs, it should not exist."
In the end, Collett wrote, "through the redistribution of wealth, government engages in legalized plunder — theft," and beyond that, he added, "our government engages in the most serious of offenses — murder — through wars of aggression, the abomination of abortion, and other brutalities. I do not agree with the sentiment that it is patriotic to pay taxes when our government carries out such crimes. I do not want to see any of my money going towards such a regime. I do not lose any sleep over anything I do to redirect funds towards me, and I uphold the same standard for all."
Read the full letter here.
[h/t RawStory]
[image via Idaho Press-Tribune]
— —
>> Follow Andrew Kirell (@AndrewKirell) on Twitter
Have a tip we should know? tips@mediaite.com