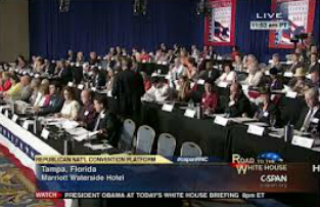 A Monday press release from faith-based advocacy group Morality in Media celebrates the Republican Party's platform as now targeting all forms of pornography, not just illegal child pornography. This has been a cause among the Christian conservative right for some time now.
MIM says the platform's "new language replaces previous platform wording, which only opposed child pornography." According to the press release, the GOP's new wording will explicitly state that "current laws on all forms of pornography and obscenity need to be vigorously enforced."
"Distribution of obscene or hardcore pornography on the Internet is a violation of current federal law," explained MIM's President Patrick A. Trueman. "Yet, most children in America have free access to obscene pornography as soon as they learn how to use a computer. The average age of first exposure to obscene Internet pornography is now eleven."
Trueman also suggested that under this wording, the federal government should police "obscenity," not only in the distribution of hardcore porn on the Internet, but also on hotel or motel TVs, cable or satellite television, and in retail shops.
This anti-porn sentiment among some Republicans is nothing new. Earlier this year, several GOP presidential candidates — presumptive nominee Mitt Romney and failed candidates Rick Santorum and Newt Gingrich — pledged a strict crackdown on all forms of pornography.
The Daily Caller notes that in 1992, the GOP's party platform called for "allowing victims of pornography to seek damages from those who make or sell it" and declared that "the time has come for a national crusade against pornography."
It shouldn't be difficult to guess who was largely responsible for this new wording: Family Research Council president Tony Perkins. MIM thanks him saying: "We are most grateful to Tony Perkins… who led the effort to get the tough new language into the platform. Without enforcement of federal obscenity laws, pornographers have had a green light to target our children and families."
If anything, this continues the GOP's reluctance to adopt Republican Indiana Gov. Mitch Daniels' social issues "truce." Last week's news that the platform continues the no-exceptions position on abortion and that the party is unwilling to consider even "civil unions" in their gay marriage platform shows that the party is still unwilling to revive the party's "big tent" status and incorporate all facets of the right — including libertarians, social moderates, and Ron Paul fans who all don't see these social "crusades" as an integral part of limited government.
In fact, many see these socially conservative positions as the antithesis of limited government.
— —
>> Follow Andrew Kirell (@AndrewKirell) on Twitter
Have a tip we should know? tips@mediaite.com