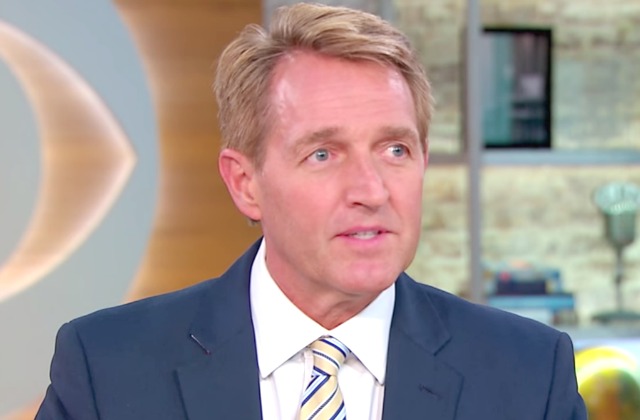 Ahead of the release of his book Conscience of a Conservative tomorrow, Senator Jeff Flake (R- AZ) has written a piece for Politico Magazine calling out members of his own party for remaining too silent when it comes to President Trump.
Flake was openly critical of Trump during the campaign, and has continued to express his concerns about the President's tone.
But as he writes today, he's troubled not just by the President's words and actions, but by how Republicans have not been more forthcoming in speaking out about them:
It was we conservatives who were largely silent when the most egregious and sustained attacks on Obama's legitimacy were leveled by marginal figures who would later be embraced and legitimized by far too many of us. It was we conservatives who rightly and robustly asserted our constitutional prerogatives as a co-equal branch of government when a Democrat was in the White House but who, despite solemn vows to do the same in the event of a Trump presidency, have maintained an unnerving silence as instability has ensued. To carry on in the spring of 2017 as if what was happening was anything approaching normalcy required a determined suspension of critical faculties. And tremendous powers of denial.
Flake acknowledges some of the reasons for this denial, recalling his own dismissals of Trump's tweeting habits. But he now likens ignoring the President's tweets to Noah saying, "If I spent all my time obsessing about the coming flood, there would be little time for anything else."
"That unnerving silence in the face of an erratic executive branch is an abdication," he continues, "and those in positions of leadership bear particular responsibility… If this was our Faus­tian bargain, then it was not worth it. If ultimately our principles were so malleable as to no longer be principles, then what was the point of political victories in the first place?"
You can read the full piece from Flake here.
[image via screengrab]
— —
Follow Josh Feldman on Twitter: @feldmaniac
Have a tip we should know? [email protected]
Josh Feldman - Senior Editor