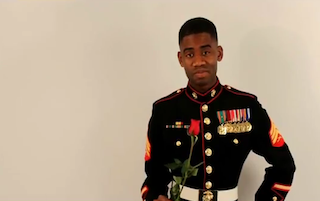 Jeez, clearly this year's Marine Ball is the hot ticket in town. It all started with a brilliant jarhead using the power of YouTube to get Mila Kunis to be his date. Soon, another marine successfully proved the trick works on men too by getting Justin Timberlake as her escort. Of course, any situation that involves celebrities and social media isn't going to be complete without one special celebrity and, sure enough, Marine Sgt. Ray Lewis has now asked out Betty White.
Thank goodness. I was beginning to worry that our Marine Corps was secretly designed purely as viral marketing for the movie Friends with Benefits.
In a video that shows of his athleticism and control of video editing techniques to magically make a rose appear, Lewis describes White as "funny, sweet, and the all around perfect woman."
Now, if I know my Internet stories well, all we need now is for a marine to ask out a Muppet and we'll have truly hit all the necessary meme marks.
UPDATE: Unfortunately, it looks like Ms. White will not be attending:
"I am deeply flattered and truly appreciate the invitation, as everyone knows I love a man in uniform… but unfortunately I cannot accept, as I will be taping an episode of Hot In Cleveland. Love, Betty White."
This is, of course, a huge loss for Sgt. Lewis. However, it's clearly a big win for senior citizen's everywhere. Who would have guessed that, in 2011, Betty White would be busier than Mila Kunis and Justin Timberlake?
Watch the video below:
(h/t Splitsider)
Have a tip we should know? tips@mediaite.com