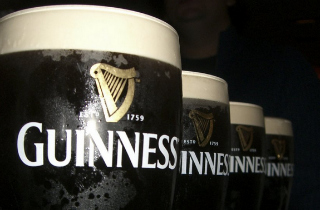 Considering that Guinness is one of only a handful of things of Irish descent that your average American can even think of, New York City's annual St. Patrick's Day parade got a lot less Irish today, when the famed brewer announced on Sunday it would be pulling its sponsorship over organizers' refusal to allow LGBT marchers.

The company explained in a statement:
"Guinness has a strong history of supporting diversity and being an advocate for equality for all. We were hopeful that the policy of exclusion would be reversed for this year's parade. As this has not come to pass, Guinness has withdrawn its participation. We will continue to work with community leaders to ensure that future parades have an inclusionary policy."
That follows on the heels of a similar decision from Heineken, and one from the Boston Beer Company, brewer of Sam Adams, for yesterday's parade in Boston. In even more surprising moves, both cities' mayors, Bill de Blasio of New York and Marty Walsh of Boston, became the first mayors in many years to not take part in what is considered an important day of community politicking.
"So much of our Irish history has been shaped by the fight against oppression," Walsh explained of his decision.
"As mayor of the city of Boston, I have to do my best to ensure that all Bostonians are free to participate fully in the civic life of our city. Unfortunately, this year, the parties were not able to come to an understanding that would have made that possible."
Organizers of the parades in both cities had said that gay groups were welcome to join the parade, as long as they didn't, you know, act too gay about it.
Nonetheless, both parades were attended by tens of thousands of revelers, many of them Irish-Americans, who sang, danced, and, after having hoisted a few too many drinks, embraced and declared their undying affection for one another just before puking on someone's stoop. Not that there's anything wrong with that.
[Image via Flickr user widmatt]
— —
>> Luke O'Neil is a journalist and blogger in Boston. Follow him on Twitter (@lukeoneil47)
Have a tip we should know? tips@mediaite.com