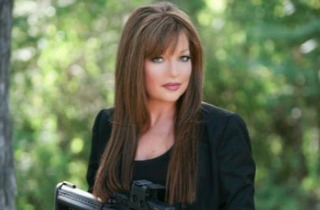 Jan Morgan is the owner of a gun range in Arkansas, and she recently wrote a post on her blog declaring her business to be a "Muslim free zone."
Morgan has since deleted the post in question, but a few sites have preserved her musings on Islam and why she's taking a stand. Morgan claims there are 109 verses in the Qu'ran "commanding hate, murder and terror," and alleges her life has been "threatened repeatedly" by Muslims angry at her for "exposing the vileness" of their religion.
(And while the recent post was taken down, Morgan still has this note up on her Facebook page from 2011 citing verses from the Qu'ran to make her point about how "evil, violent, and intolerant" Islam is.)
She explains her other customers will not feel comfortable with Muslims holding guns around them, and argues the First Amendment right to freedom of religion doesn't apply because, Morgan believes, Islam is a theocracy and not a religion.
And then there's this bit of logic:
Not all muslims are terrorists, but almost all terrorists in the world right now are muslim. Since you can't determine by visual assessment, which ones will kill you and which ones will not, I am going to go with the line of thought that ANY HUMAN BEING who would either knowingly or unknowingly support a "religion" that commands the murder of all people who refuse to submit or convert to that religion, is not someone I want to know or do business with.
Morgan insists this is about safety and security at her business and not about prejudice or hate. She concludes, "I will do whatever is necessary to provide a safe environment for my customers, even at the cost of the increased threats and legal problems this decision will likely provoke."
And while the blog post is no longer up, Morgan has not taken down her tweets proudly declaring her new position:
My Business is a Muslim Free Zone #JanMorganMedia http://t.co/QPjZTcbuBP via @JanMorganMedia

— Jan Morgan (@JanMorganMedia) September 28, 2014
I have officially declared my business, The Gun Cave Indoor Shooting Range, a MUSLIM FREE ZONE.

My life has been… http://t.co/Jwe2HuQJql

— Jan Morgan (@JanMorganMedia) September 28, 2014
MY BUSINESS IS NOW A MUSLIM FREE ZONE

Calls of support coming in from all over the United States :)
That sort… http://t.co/1zGd9s2xiD

— Jan Morgan (@JanMorganMedia) September 29, 2014
If you like the "muslim free zone" position I have taken with my gun range, please check out my range page, and… http://t.co/jWlPMaN1GE

— Jan Morgan (@JanMorganMedia) September 29, 2014
[h/t Arkansas Times]
[image via screengrab]
— —
Follow Josh Feldman on Twitter: @feldmaniac
Have a tip we should know? tips@mediaite.com
Josh Feldman - Senior Editor