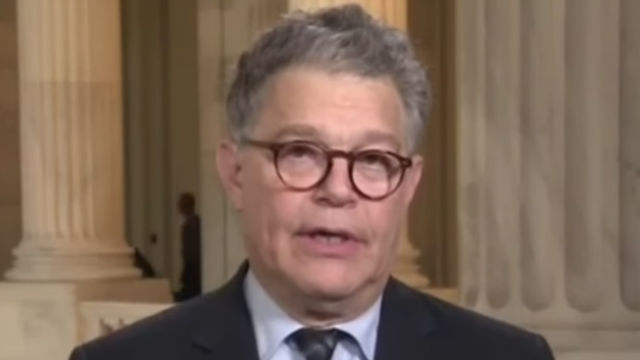 Even though Sen. Al Franken (D-MN) has already announced that he will resign from the Senate amid numerous allegations of sexual misconduct, set the date for his departure, and the Governor of Minnesota has selected his replacement, a lot of folks in Minnesota would like for Franken to reconsider his decision.
According to a new survey by Public Policy Polling, 50 percent of Minnesota voters think Franken should not tender his resignation. This is compared to 42 percent who believe he should go through with his plan to leave the Senate on January 2.
One thing that may be driving this opinion in the state is that Franken is fairly popular with voters. PPP found his job approval rating at 53 percent. And despite the allegations that he's groped multiple women, female voters are the ones pushing his popularity as 57 percent approve of the job he's doing compared to only 37 percent who do not.
It appears that Minnesota voters are particularly upset with the process that led to Franken's resignation. After a seventh woman came forward to accuse Franken of misconduct, an avalanche of Democratic senators called on Franken to resign, resulting in him stepping down a day later. Sixty percent of poll respondents feel the Senate's ethics investigation into Franken should have been completed before a decision was made. Furthermore, 76 percent of voters said "their voices should have been more important" in terms of determining Franken's fate.
Following Franken's resignation announcement, Sens. Joe Manchin (D-WV) and Patrick Leahy (D-VT) said that Franken shouldn't have resigned prior to the results of an ethics probe.
[image via screengrab]
—
Follow Justin Baragona on Twitter: @justinbaragona
Have a tip we should know? tips@mediaite.com