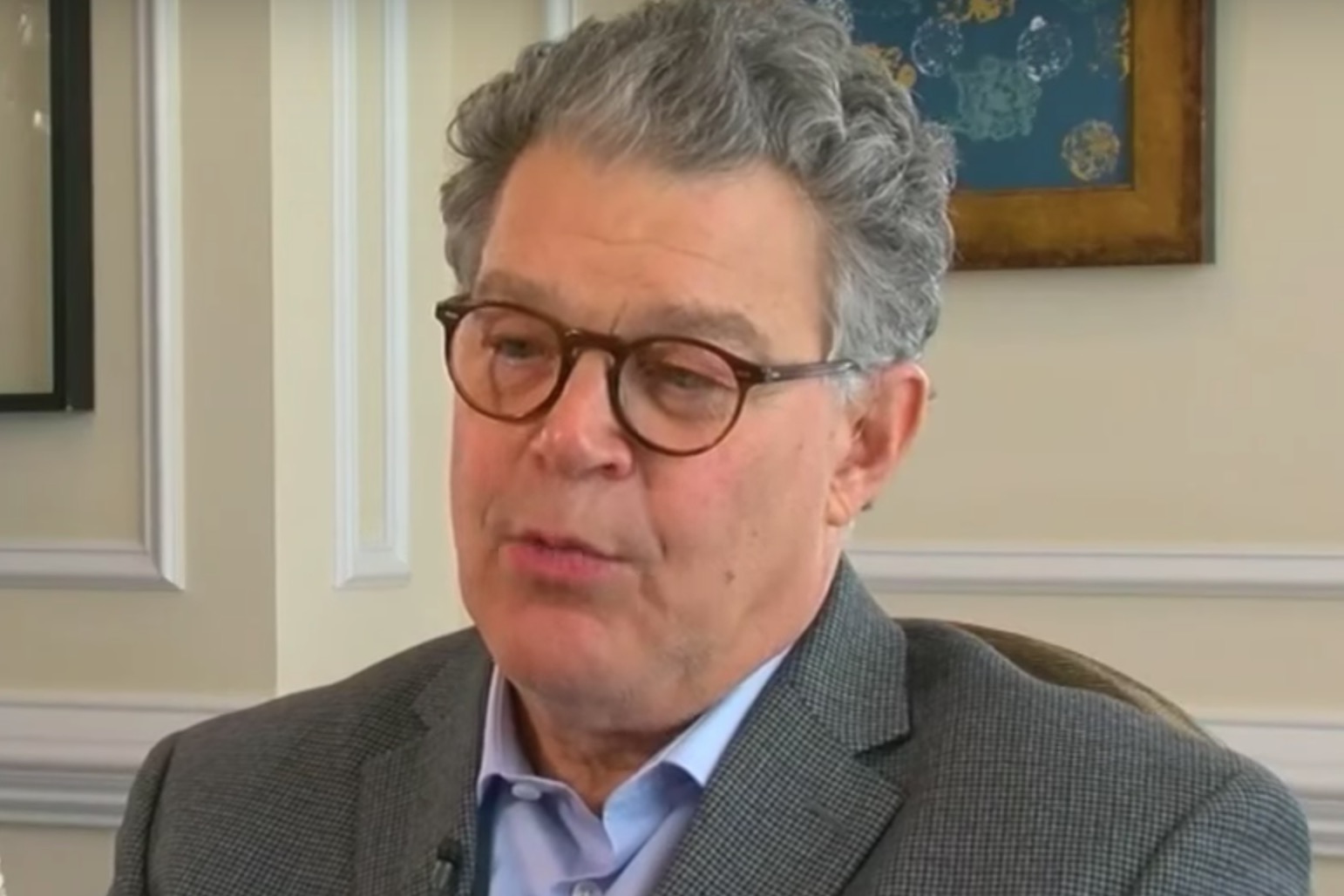 UPDATE: TWENTY-SEVEN Democratic senators on Wednesday called on colleague Al Franken to resign, in a jaw-dropping avalanche of statements addressing the latest sexual misconduct allegations made against the Minnesota senator.
Sen. Kirsten Gillibrand kicked things off, publishing a post on Facebook aptly titled "Senator Franken Should Step Aside" (read here).
Democratic Sens. Mazie Hirono of Hawaii, Claire McCaskill of Missouri, Maggie Hassan of New Hampshire, Patty Murray of Washington, Kamala Harris of California, Bob Casey of Pennsylvania, Tammy Baldwin of Wisconsin, and Sherrod Brown of Ohio, Joe Donnelly of Indiana, Debbie Stabenow of Michigan, Ed Markey of Massachusetts, Heidi Heitkamp of North Dakota, Michael Bennet of Colorado, Maria Cantwell of Washington, Dick Durbin of Illinois, Patrick Leahy of Vermont, Dianne Feinstein of California, Martin Heinrich of New Mexico, Jeff Merkley of Oregon, Ron Wyden of Oregon, Tom Carper of Delaware,
Tom Udall of New Mexico, Amy Klobuchar of Minnesota, Tammy Duckworth of Illinois, Catherine Cortez Masto of Nevada, Gary Peters of Michigan, Jon Tester of Montana, and Senate Minority Leader Chuck Schumer all followed suit.
UPDATE –– 12:32 pm ET: Franken is expected to make an announcement tomorrow:
NEW – Franken going to be making an announcement tomorrow

— Amanda Terkel (@aterkel) December 6, 2017
UPDATE –– 2:51 pm ET: Angus King, an Independent who caucuses with the Democrats, also joined the calls for Franken to resign.
UPDATE –– 2:54 pm ET: Fellow Independent Senator Bernie Sanders is now saying the same.
This comes on the heels of yet another woman coming forward with allegations of sexual misconduct against Franken, which he has denied as "categorically not true."
Gillibrand's Facebook statement says that while she has considered Franken a friend, "this moment of reckoning about our friends and colleagues who have been accused of sexual misconduct is necessary, and it is painful."
Hirono immediately followed suit, as well as a number of other prominent Democratic senators. Their statements will be listed below as they come in:
Today, I am calling on my colleague Al Franken to step aside. I've struggled with this decision because he's been a good Senator and I consider him a friend. But that cannot excuse his behavior and his mistreatment of women. (thread)

— Senator Mazie Hirono (@maziehirono) December 6, 2017
Al Franken should resign.

— Claire McCaskill (@clairecmc) December 6, 2017
It is clear that Al Franken has engaged in a pattern of egregious and unacceptable behavior toward women. He should resign.

— Sen. Maggie Hassan (@SenatorHassan) December 6, 2017
ALSO: Sen. @PattyMurray, the highest-ranking woman in the Senate Democratic Caucus, calls on Franken to step down. https://t.co/XR3td2CUoV

— Ed O'Keefe (@edatpost) December 6, 2017
Sexual harassment and misconduct should not be allowed by anyone and should not occur anywhere. I believe the best thing for Senator Franken to do is step down.

— Kamala Harris (@SenKamalaHarris) December 6, 2017
I believe it is best for Senator Franken to resign.

— Sen. Tammy Baldwin (@SenatorBaldwin) December 6, 2017
Joe is calling for Senator Franken to resign. pic.twitter.com/ff5i1rnhJs

— Senator Joe Donnelly (@SenDonnelly) December 6, 2017
I have listened to them. I have listened to my female colleagues, to women I work with and women in my life. And I agree the time has come for Senator Franken to step aside.

— Sherrod Brown (@SenSherrodBrown) December 6, 2017
I agree with my colleagues who have stepped forward today and called on Senator Franken to resign. We can't just believe women when it's convenient.

— Senator Bob Casey (@SenBobCasey) December 6, 2017
Sexual harassment is unacceptable. I believe Senator Franken should do the right thing and resign.

— Sen. Debbie Stabenow (@SenStabenow) December 6, 2017
I join my colleagues in calling for Senator Franken to step aside and resign. Sexual harassment is unacceptable, completely inappropriate and cannot be tolerated.

— Ed Markey (@SenMarkey) December 6, 2017
We must commit to zero tolerance – which is where I believe we as a country and Congress should be – and that means Senator Franken should step down. Full statement: pic.twitter.com/4qrZB0mBTo

— Sen. Heidi Heitkamp (@SenatorHeitkamp) December 6, 2017
Sexual harassment and misconduct are never acceptable. I understand Senator Franken will make an announcement tomorrow morning, and I'm confident he'll do the right thing and step aside.

— Michael F. Bennet (@SenBennetCO) December 6, 2017
Senator Franken's actions are disturbing, egregious, and demonstrate a pattern of serious misconduct and abuse. It is time for Senator Franken to resign from office.

— Sen. Maria Cantwell (@SenatorCantwell) December 6, 2017
Senator Franken's behavior was wrong. He has admitted to what he did. He should resign from the Senate.

— Senator Dick Durbin (@SenatorDurbin) December 6, 2017
Comment Of Senator Patrick Leahy On Senator Al Franken — https://t.co/zWhV7CMxsT

— Sen. Patrick Leahy (@SenatorLeahy) December 6, 2017
It's clear the American people don't look lightly on these kinds of actions, no matter who they're committed by, and the number of complaints against Senator Franken is a concern. I think resignation is the right thing for him to do.

— Sen Dianne Feinstein (@SenFeinstein) December 6, 2017
Senator Franken needs to step down and we all need to do more to make clear that sexual harassment and assault are unacceptable.

— Martin Heinrich (@MartinHeinrich) December 6, 2017
Senator Franken has said he will make an announcement tomorrow, and I hope that he will do the right thing. It is in the best interest of our country for him to step aside.

— Senator Jeff Merkley (@SenJeffMerkley) December 6, 2017
I expect that Senator Franken will announce his resignation tomorrow. It is the right thing to do given this series of serious allegations.

— Ron Wyden (@RonWyden) December 6, 2017
Al Franken has been a friend to many in the Senate – Republicans, Democrats and Independents alike – but these allegations are deeply troubling, especially as the number has grown. I believe it's time for him to resign.

— Senator Tom Carper (@SenatorCarper) December 6, 2017
Senator Franken should send a strong message that sexual misconduct is unacceptable in any setting and step down.

— Tom Udall (@SenatorTomUdall) December 6, 2017
Sexual harassment is unacceptable. This morning I spoke with Senator Franken and, as you know, he will be making an announcement about his future tomorrow morning. I am confident he will make the right decision.

— Amy Klobuchar (@amyklobuchar) December 6, 2017
I am deeply disappointed by Senator Franken's behavior. He must step aside. My full statement here: https://t.co/Ad0L8WC0Fr

— Tammy Duckworth (@SenDuckworth) December 6, 2017
Sexual harassment in any context is unacceptable. I'm disappointed & disgusted with the allegations concerning @SenFranken, and he should be held accountable.

More on my statement on sexual harassment and needed meaningful reforms of the Ethics process: https://t.co/tU4j4p5alv

— Senator Cortez Masto (@SenCortezMasto) December 6, 2017
I think the time has come for Senator Franken to step down

— Senator Gary Peters (@SenGaryPeters) December 6, 2017
Elected officials must be held to a high standard, Al Franken is no exception. It's time for him to step down.

— Senator Jon Tester (@SenatorTester) December 6, 2017
JUST IN: Senate Minority Leader Chuck Schumer calls on Sen. Al Franken to "step down immediately." https://t.co/n91Y5eTNgD pic.twitter.com/zfhx9mKV4M

— ABC News (@ABC) December 6, 2017
[image via screengrab]
— —
Follow Josh Feldman on Twitter: @feldmaniac
Have a tip we should know? tips@mediaite.com
Josh Feldman - Senior Editor