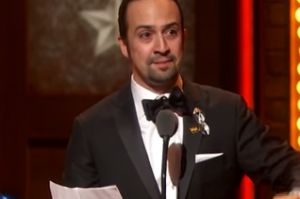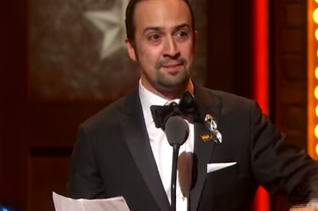 Today, GQ released their lengthy profile of Kim Kardashian West. In it, readers learned that husband Kanye West films everything when he's in the studio just in case he wants to make a documentary one day. Basically, there is a lot of unseen footage in a vault somewhere that lovers of reality TV, rap, or celebrity culture in general would do anything to get their hands on.
Fans of the hit historical rap sensation known as Hamilton are every bit as ardent as fans of the hit-making rap sensation known as West, so let's hope the future of footage taken of the Broadway show isn't as ambiguous as that culled from the studios where West has put down some of his most intricate rhymes.
That's right: Hamilton creator and star Lin-Manuel Miranda has confirmed that though he is leaving the show on July 9, the whole thing is being filmed ahead of his departure. Here's what USA Today said:
But before he packs up his Hamilton dressing room, the production will film two performances with the original cast this month before they start exiting, as well as shooting offstage cameos.
Miranda tweeted about the footage a little today, too:
1)So far @USATODAY is the only one not burying the lede:
We're filming the original cast before I go.
WE GOT YOU. https://t.co/O7Vo9LhF7O

— Lin-Manuel Miranda (@Lin_Manuel) June 16, 2016
2) What are we doing with that footage?
No idea.
Throwing it in a vault at Gringotts for a bit probly. But we're getting it.

— Lin-Manuel Miranda (@Lin_Manuel) June 16, 2016
Dang. So it looks like the footage is going West-ward, if you catch my drift, because there are no official plans for it, which means it could be years before it sees the light of day.
For now, we will make do with what we have. We have the Tony Awards performance. We have the Gramys performance. We have the White House performance. We will fight up close, seize the moment, and stay in it until we can get that footage.
[image via screengrab]
For more from Lindsey, head to Twitter or Facebook.
Have a tip we should know? tips@mediaite.com