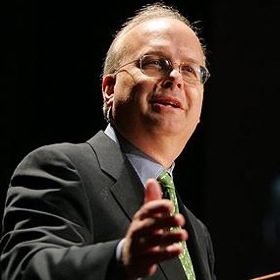 Handicapping tonight's debate for the Wall Street Journal, the sage Republican strategist Karl Rove suggests that the otherwise "competent and capable" Mitt Romney "needs to light a spark among GOP voters" if he hopes to be chosen as nominee. Rove also offered his assessment to current GOP front runner Rick Perry, and a few words of advice for Michele Bachmann and Rick Santorum as well, but seemed most ready to heap praise on Romney. He's just a little worried the former Massachusetts governor might be a little boring.
While he's found Perry to be "okay-to-mediocre," Rove writes that Romney's debate showings have been "crisp, sharp, reassuring and in command." He worries that Perry's "support is based on what people believe him to be rather than what they know him to be," and that he's spent too much time arguing about Social Security — a weak point in his rhetoric where Romney has been able to hold sway. What Perry should be doing, he says, is pressing Romney for "explanation for his Massachusetts health-care law than the 10th Amendment," and questioning his conservative credentials.
"All of which means the 2012 Republican sweepstakes is far from over," Rove writes, handicapping himself. As he points out, at this point four years ago, Rudy Giuliani and Fred Thompson held the lead, but in the end, neither were serious contenders. He does seem to believe, though, that Romney is a capable candidate, so long as he can find a way to get Republicans excited about him.
With rumors about bad blood between former Bush administration officials and Rick Perry's camp, readers may wish to take Rove's analysis with a Lot's wife-sized grain of salt, but evaluating it on the merits, his prognosis looks solid.
Have a tip we should know? tips@mediaite.com