Harvard Law Grad Ted Cruz Thinks Congress Could Use More Farmers, Less Lawyers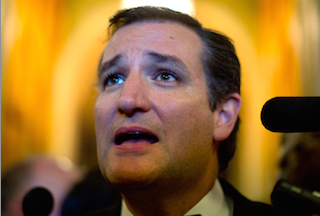 Rep. Bruce Braley, the Iowa Democrat who is running for the Senate seat being vacated by Democrat Tom Harkin this fall, has come under fire from Republicans after making disparaging comments about Sen. Chuck Grassley (R-IA), as well as farmers in general, during a private fundraiser last week. Now, Sen. Ted Cruz (R-TX) has joined the campaign against Braley with an op-ed published in The Iowa Republican.
In the video from Braley's fundraiser, which was later released by the conservative super PAC America Rising, Braley says the following about Grassley, who worked as farmer before beginning his political career in Iowa in the last 1950s:
"To put this in stark contrast, if you help me when this race you may have someone with your background, your experience, your voice, someone who's been literally fighting tort reform for thirty years, in a visible or public way, on the Senate Judiciary Committee. Or, you might have a farmer from Iowa who never went to law school, never practiced law, serving as the next Chair of the Senate Judiciary Committee. Because, if Democrats lose the majority, Chuck Grassley will be the Chair of the Senate Judiciary Committee."
"Well, let me tell you something," Cruz writes in his op-ed. "Washington would be a lot better off if we had more farmers in Congress and a lot fewer trial lawyers." Like Braley, Cruz has a law degree, though his is from Harvard Law School, not the University of Iowa, and practiced as a lawyer before entering politics.
"I'm a constitutional lawyer who serves on the Senate Judiciary Committee, and in my opinion Chuck Grassley – that Iowa farmer whom Braley was denigrating – would make an outstanding chairman of that committee," Cruz writes, before proceeding to praise his Republican colleague on a number of issues.
Cruz closes his piece by writing:
"We need more people like Sen. Grassley who rely on good, old-fashioned commonsense than those who depend on an army of accountants, lawyers, and lobbyists to get their way in Washington.

That's why I'd venture that if any Republican had to choose between a trial lawyer and a farmer, they'd pick the farmer. I would."
Watch video of Braley's remarks below, via America Rising:
[photo via Jason Reed/Reuters]
— —
>> Follow Matt Wilstein (@TheMattWilstein) on Twitter
Have a tip we should know? tips@mediaite.com