'He Is a Maverick!': Palin Dishes on Her Support For Trump While Filming New Game Show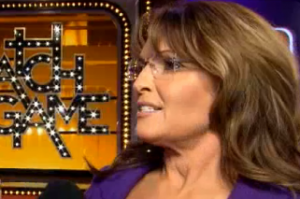 Following in the footsteps of Rosie O'Donnell, former Alaskan governor Sarah Palin will be appearing in an upcoming reboot of the game show Match Game. She announced it herself like this:
While shooting her episode, which will air sometime in the future, she spoke to a few news outlets about some of the current happenings in the Palin universe.
She talked to Inside Edition about daughter Bristol Palin, who recently married medal of honor recipient Dakota Meyer. She reiterated all of the positive things she's said about the seemingly speedy union in the past, saying, "That's the best. Bristol and Dakota and their little baby girl Sailor — it's all good."
With the New York Daily News, she spoke about Donald Trump, who she has endorsed for the presidency for almost half of a year. When asked for two reasons she still stands with him, she said this:
I believe we need an outsider who will unveil what the problems are in both political parties that have so disenfranchised the voter and made people not want to be involved in their own government any more. Trump is one who can unveil that. And then actually do somethin' about it. Because he is a maverick and he is one to say the status quo has gotta go. That's what I respect about Trump.
We don't know when the episode will air, but will we be watching when it does and tell you all of the details afterward?
"You betcha!"
[image via screengrab]
For more from Lindsey, try Twitter or Facebook.
Have a tip we should know? tips@mediaite.com