Heather Graham Speaks Out: Harvey Weinstein Implied I Had to Sleep With Him to Get Movie Role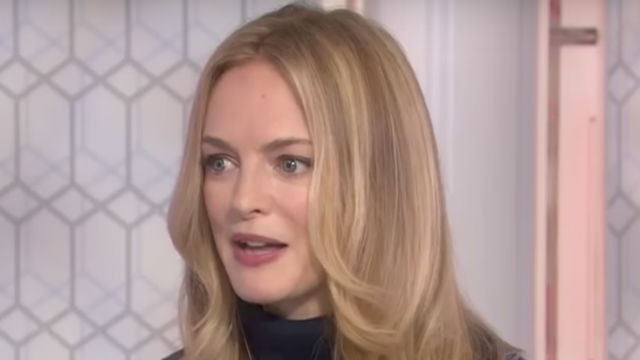 Actress Heather Graham is now speaking out about an encounter she had with Harvey Weinstein in which he allegedly suggested that he could get her a movie role if she slept with him.
Graham is just the latest actress to speak out about gross behavior from Weinstein. A New Yorker exposé this morning said three women are alleging Weinstein raped them, and high-profile actresses like Angelina Jolie and Gwyneth Paltrow are now publicly saying Weinstein sexually harassed them.
Writing for Variety, Graham says that Weinstin called her to his office and said he wanted to put her in one of his movies.
There were a few scripts on his desk, and Graham said this is what happened during their conversation:
[H]e mentioned that he had an agreement with his wife. He could sleep with whomever he wanted when he was out of town. I walked out of the meeting feeling uneasy. There was no explicit mention that to star in one of those films I had to sleep with him, but the subtext was there.

A few weeks later, I was asked to do a follow-up meeting at his hotel. I called one of my actress friends to explain my discomfort with the situation, and she offered to come with me. En route, she called me to say she couldn't make it. Not wanting to be at the hotel alone with him, I made up an excuse — I had an early morning and would have to postpone. Harvey told me that my actress friend was already at his hotel and that both of them would be very disappointed if I didn't show. I knew he was lying, so I politely and apologetically reiterated that I could no longer come by.
Ashley Judd speaking out about Weinstein's harassment last week led Graham to ask some important questions, asking, "If I had spoken up a decade ago, would I have saved countless women from the same experience I had or worse?"
"While I still do feel guilty for not speaking up all those years ago," Graham concludes, "I'm glad for this moment of reckoning. To the countless other women who have experienced the gray areas: I believe you."
[image via screengrab]
— —
Follow Josh Feldman on Twitter: @feldmaniac
Have a tip we should know? [email protected]
Josh Feldman - Senior Editor