Gwyneth Paltrow, Angelina Jolie and More Accuse Harvey Weinstein of Harassment to NYT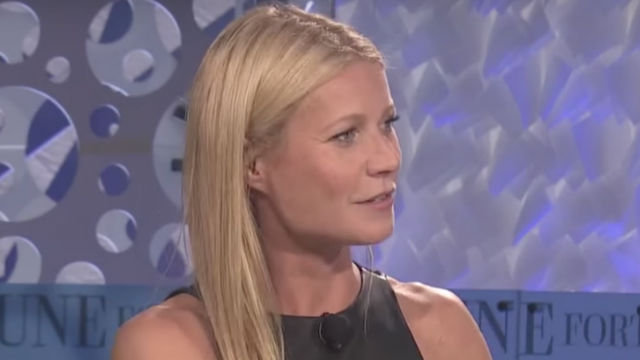 The list of Harvey Weinstein accusers grows, with more big-name actresses now openly sharing their stories.
The New York Times has a new report out with statements from Gwyneth Paltrow and Angelina Jolie, among others.
Paltrow recalls an incident when she was 22 and was getting ready to shoot her 1996 film Emma. She says Weinstein "summoned her" to his hotel suite and this is what happened next:
It ended with Mr. Weinstein placing his hands on her and suggesting they head to the bedroom for massages, she said.

"I was a kid, I was signed up, I was petrified," she said in an interview, publicly disclosing that she was sexually harassed by the man who ignited her career and later helped her win an Academy Award.

She refused his advances, she said, and confided in Brad Pitt, her boyfriend at the time. Mr. Pitt confronted Mr. Weinstein, and soon after, the producer threatened her not to tell anyone else about his come-on. "I thought he was going to fire me," she said.
And the Times notes that Brad Pitt "confirmed the account… through a representative."
But Paltrow says that Weinstein subsequently "screamed at me for a long time" and even though she ended up winning an Oscar for the Weinstein-produced Shakespeare in Love, she was "expected to keep the secret" of what happened in that hotel suite.
And multiple other actresses said the same thing happened to them too, including Jolie:
Rosanna Arquette, a star of "Pulp Fiction," has a similar account of Mr. Weinstein's behavior, as does Judith Godrèche, a leading French actress. So does Angelina Jolie, who said that during the release of "Playing by Heart" in the late 1990s, he made unwanted advances on her in a hotel room, which she rejected.

"I had a bad experience with Harvey Weinstein in my youth, and as a result, chose never to work with him again and warn others when they did," Ms. Jolie said in an email. "This behavior towards women in any field, any country is unacceptable."
Rosanna Arquette alleges that Weinstein was in a bathrobe asking for a massage, and when she tried to delicately avoid doing so, he "grabbed her hand and pulled it toward his crotch."
Katherine Kendall's account in particular is incredibly disturbing:
He went to the bathroom, came back in a robe and asked her to give him a massage, she said. "Everybody does it," he said, according to Ms. Kendall, and mentioned a famous model's name. She refused; he left the room, and returned nude, she said.

"He literally chased me," she said. "He wouldn't let me pass him to get to the door."

Ms. Kendall said his advances had a bargaining quality: He asked if she would at least show her breasts, if nothing else.
After the Times' big exposé on Weinstein broke last week, according to this new report, "additional actresses began sharing with The Times on-the-record stories of casting-couch abuses."
You can read the full report here.
[image via screengrab]
— —
Follow Josh Feldman on Twitter: @feldmaniac
Have a tip we should know? tips@mediaite.com
Josh Feldman - Senior Editor