'Helpers of the Global Jihad' Claim Responsibility for Terror Attacks in Norway (UPDATE)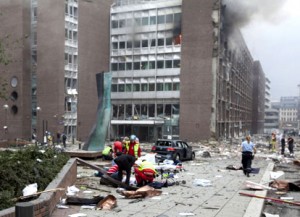 Details are continuing to emerge about the tragic events happening today in Oslo. A terrorist group known as Ansar al-Jihad al-Alami, or "Helpers of the Global Jihad" has released a statement claiming responsibility for the attacks, that have been responsible for the deaths of seven people so far, according to The New York Times. The AP reports that the bombings of government buildings are connected to a man dressed up as a police officer who opened fire on a group of Labor party members earlier today. The man was soon arrested by Norwegian police. UPDATE – the individual has been identified as a Norwegian native and appears to have no affiliation with Islamic extremists.
According to an eyewitness, the gunman killed roughly 20 people before being taken into custody. Prime Minister Jens Stoltenberg told Norwegian broadcaster NRK that people should not give in to fear, "because the purpose of that kind of violence is to create fear."
According to journalist Jeff Jarvis, the BBC has been asking residents of Oslo to unlock their wi-fi so everyone can communicate online.
President Barack Obama has already issued a statement on the attacks in Oslo:
"I wanted to personally extend my condolences to the people of Norway… It's a reminder that the entire international community holds a stake in preventing this kind of terror from occurring. We have to work cooperatively together both on intelligence and in terms of prevention of these kinds of horrible attacks."
The BBC reports that British Prime Minister David Cameron has promised to "work with Norway to hunt the murderers who did this." Oslo Mayor Fabian Stang told Sky News that his citizens now feel the same pain as past cities targeted by terrorist groups.
"Today we think about those people living in New York and London who have experienced this kind of thing… I do not think it is possible for us to understand what has happened today but hopefully we will be able to go on and that tomorrow Oslo will be a peaceful city again."
ITV's international editor Bill Neely reported on the statement from "Helpers of the Global Jihad," and explained that the motives behind the attacks may have to do with the controversial cartoons of the Prophet Muhammed published in a Danish newspaper in 2005. Neely speculates that Norway may have been targeted by al-Qaeda because of the nation's involvement in Afghanistan, Libyan terrorists because of Norway's involvement in that nation, or domestic terrorists.
You can watch Neely explaining the latest details of the attacks on ITV below:
Have a tip we should know? tips@mediaite.com
Josh Feldman - Senior Editor