Henry Rollins Feels 'Disdain' for Robin Williams and His 'Purposely Abandoned' Life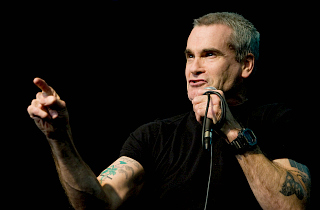 Punk rock musician and actor Henry Rollins has blasted Robin Williams for deciding to take his own life.
In an essay for LA Weekly, titled "Fuck Suicide," Rollins delivered the sort of by-your-own-bootstraps proclamations he's become well-known for, excoriating the late comedian for committing suicide and leaving his family behind:
How in the hell could you possibly do that to your children? I don't care how well adjusted your kid might be — choosing to kill yourself, rather than to be there for that child, is every shade of awful, traumatic and confusing. I think as soon as you have children, you waive your right to take your own life. No matter what mistakes you make in life, it should be your utmost goal not to traumatize your kids. So, you don't kill yourself.
Rollins emphasized that he understands depression, noting that "When you are severely depressed, it can be more isolating than anything else you have ever experienced." He relayed a story of his old housemate who committed suicide after a long battle with depression.
"The hardest part about being around her was you knew there was nothing you could do to help," he wrote. "I get it, but then again, maybe I don't."
And now comes the more controversial parts [emphasis added]:
When someone negates their existence, they cancel themselves out in my mind. I have many records, books and films featuring people who have taken their own lives, and I regard them all with a bit of disdain. When someone commits this act, he or she is out of my analog world. I know they existed, yet they have nullified their existence because they willfully removed themselves from life. They were real but now they are not.

I no longer take this person seriously. I may be able to appreciate what he or she did artistically but it's impossible to feel bad for them. Their life wasn't cut short — it was purposely abandoned. It's hard to feel bad when the person did what they wanted to. It sucks they are gone, of course, but it's the decision they made. I have to respect it and move on.
And here's more:
Almost 40,000 people a year kill themselves in America, according to the Centers for Disease Control and Prevention. In my opinion, that is 40,000 people who blew it.
Noisey cataloged the internet's general reaction to Rollin's "Fuck Suicide" declaration: In effect, many social media users said, "Fuck Henry Rollins."
[h/t Pitchfork]
[Image via Shutterstock]
— —
>> Follow Andrew Kirell (@AndrewKirell) on Twitter
Have a tip we should know? [email protected]