Here Are the GOP Primary Campaigns That Have Talked to the Cops in the Last 24 Hours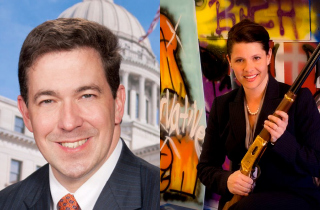 Two GOP primary campaigns have caught the attention of law enforcement in the past twenty-four hours.
The Sheriff's Department in Hinds County, MS is investigating three people — one of whom is an official for the campaign of Chris McDaniel, the tea party candidate in Mississippi GOP Senate primary — who were "found locked inside" a courthouse of one of the last counties to finish voting on Tuesday.
The McDaniel campaign said it had sent the three to observe the vote, but that they had accidentally gotten locked in. The three were discovered at 4 a.m., and a Sheriff's spokesperson said their conflicting stories has prompted an investigation.
Incumbent Thad Cochran's campaign predictably jumped: "It is astonishing that the same people who are up to their eyeballs in four felons breaking into a nursing home are also up to their eyeballs in potentially breaking in somewhere else again," a Cochran spokesperson said, alluding to a separate instance in which members of the McDaniel campaign are implicated in a break-in to Cochran's wife's hospice to take her photo.
RELATED: GOP Sen.'s Campaign Goes After Reporter for 'Unprofessional, Ridiculous Hit Piece'
McDaniel narrowly missed the 50%-threshold required to avoid a runoff, but is favored in the election in three weeks.
Meanwhile in South Dakota, GOP Senate primary candidate Annette Bosworth may be having the worst week of any American not named Donald Sterling. First Bosworth found out she lost her primary Tuesday night when Fox News host Megyn Kelly informed her on-air. Twelve hours later, Bosworth turned herself in to the Minnehaha County Jail, and was charged by state Attorney General Marty Jackley with a dozen counts of perjury and filing false election documents.
Bosworth dismissed the charges as "a political intimidation scheme," as Jackley was appointed by Governor Mike Rounds, who defeated Bosworth and several other candidates in the primary. This was all just two days after Bosworth announced the formation of a PAC to attack "the corruption of career politicians and the media culture that protects them."
[h/t WAPT / Clarion-Ledger / New York Times]
[Image via Facebook]
——
>> Follow Evan McMurry (@evanmcmurry) on Twitter
Have a tip we should know? tips@mediaite.com