To commemorate Independence Day, we've put together a list of eight of the most super-patriotic moments of 2014 to date. This is obviously not a complete list, but it should be enough to satiate anyone's sense of pride and patriotism on this day we celebrate all things America.
First up, this:
Rep. Steve Hurst is pulling out the big gun in his campaign. #alpolitics pic.twitter.com/JlHKftOpi0

— greg varner (@varnergreg) April 21, 2014
That, my friends, is a combination parade float/barbecue in the shape of a friggin' gun. This was being hauled around by an Alabama state representative earlier this year, and is obviously an exercise in super-patriotism because it combines three of America's favorite things: guns, parades, and eating barbecue. (If you go all of today without eating some grilled meats, GTFO.)
But guns like that are so modern and don't really evoke memories of what life was like for America's first patriots. And that brings us to super-patriotic thing #2: A cannon.
Specifically, a Republican candidate who decided to one-up all those ads with people holding or shooting guns to look macho or something with a CANNON. A REAL CANNON.
And you know what makes cannons so patriotic? Well, the 1812 Overture is a popular song on the 4th of July, and what makes that song so epic? The cannons.
And now we come to #3: Bob Dylan. I know, I know, that Super Bowl ad was cheesy as hell (and may or may not have been in a list on this website of reasons why this year's Super Bowl sucked), but sometimes you need a little bit of good ol' American cheese to remind you of this nation's awesomeness and ingenuity.
And Dylan wasn't the only proud American to show his love of country this year, which brings us to super-patriotic moment #4:
drifting down the Hudson on Memorial Day. Sending a big salute to the troops. God bless them. pic.twitter.com/dtd8sFTyXz

— Geraldo Rivera (@GeraldoRivera) May 26, 2014
Yep, Geraldo Rivera with another shirtless selfie, ladies and gentlemen, with a variation of the stars and stripes behind him. God bless America.
And while we're on the subject of the flag, it's one thing to wave the American flag or display it as proudly as you can, but for super-patriotic moment #5, one Florida man painted his house to look like the stars and stripes just last month: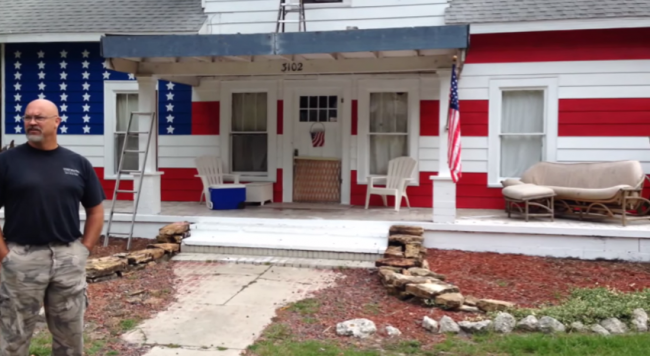 And when he was told city laws forbade him from doing this, here's how Brent Greer responded: "This is America and what rules America is the Constitution."
Yeah! Also, over-the-top, ridiculous pro-America graphics. Like #6 on our list, this graphic Fox News ran this week about illegal immigration: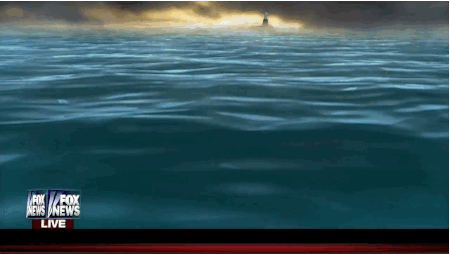 Because, come on, what could possibly be a more patriotic image than using the Statue of Liberty (you know, "give me your tired, your poor, your blah blah blah") as a symbol of why America should keep people out?
Luckily for America, though, there was one powerful bit of music this year that captured the essence of what patriotism for this country means. That's right, coming in at #7 is the America-filled theme song to Sarah Palin's show Amazing America. This'll tell you (literally) everything about what it means to truly be an American:
The only way that song could have been any more patriotic is if they painted everything red, white, and blue (including their instruments) and wore only red, white, and blue garments.
Because to really show your patriotism, you need to wear a crapload of red, white, and blue. Like Red Sox outfielder Jonny Gomes, who comes in at #8 on our list because he actually had the eagle-sized cojones to wear an American flag suit to the White House.
#MERICA En route to the @WhiteHouse pic.twitter.com/fQX47OwCc2

— Boston Red Sox (@RedSox) April 1, 2014
Dress rehersal @MikeNapoli25 on the cue cards for @15Lasershow #SoxAndStripes #Champs pic.twitter.com/z1s8p0XKJ9

— Boston Red Sox (@RedSox) April 1, 2014
And there you have it.
AMERICA.
[images via screengrab, Shutterstock]
— —
Follow Josh Feldman on Twitter: @feldmaniac
Have a tip we should know? tips@mediaite.com
Josh Feldman - Senior Editor