Hey Everyone, What Do You Think Is Happening At This Bernie Sanders Livestream Tomorrow?
There was a time that this post would have been simple and sarcastic. I could have written iterations of, "Gee, what could possibly be getting announced tomorrow at this livestream promoted by Bernie Sanders?" Get it? Because it would have been pretty safe to assume it's a nomination concession to Hillary Clinton?
After all, she won the D.C. primary last night and that was the final one. Everyone has already assumed he would bow out after that.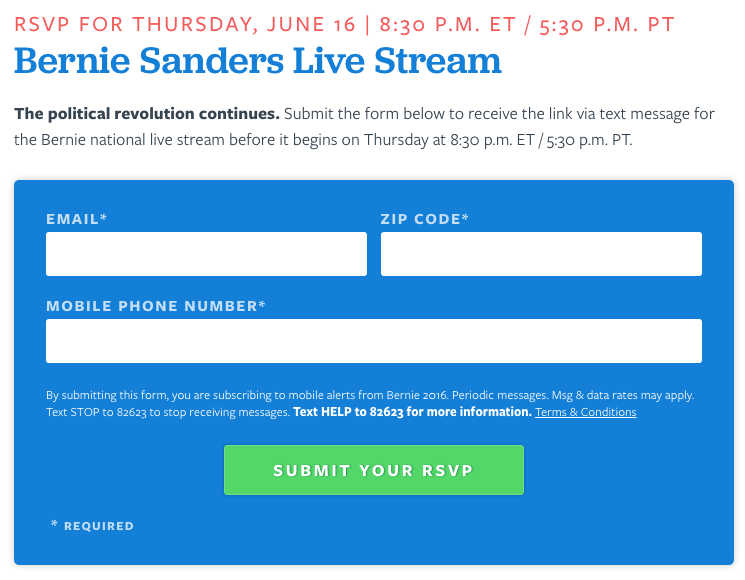 Like I said, though, there was a time when this would have been straightforward. This election season is not that time. This election season is the one that saw a casino owner and reality television star whip rallies into frenzies over forcing another country to pay for a gigantic wall. This election season is the one that saw a man trying (and failing) so desperately to beat said casino owner that he announced a left-field VP pick in April.
Finally, everyone has been buzzing about the fact that Clinton and Bernie reportedly had a secret meeting last night, so you can see that the announcement of a livestream from Sanders' camp today is not the cut-and-dry concession announcement that it would have been four years ago. What were they talking about? Is the livestream tomorrow going to be an announcement of a joint ticket à la Carly Fiorina and Ted Cruz? Is it going to be Clinton preemptively appointing Sanders to a position just as President Barack Obama appointed her to one once he became president?
Seriously, what could this be? We won't know until tomorrow at 8:30 p.m. EST, but you can go here to add your name to the list of people who will get a link to the stream sent straight to their phones when the whole thing starts.
[image via Michael Vadon]
For more from Lindsey, go to Twitter or Facebook.
Have a tip we should know? tips@mediaite.com