Woman's Story About Train Car Full of People Standing Up To Anti-Muslim Ranter Goes Viral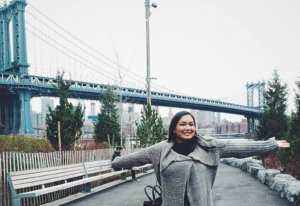 Right before the Internet became the infinitely accessible and all-consuming aspect of daily American life that it is now, there were Chicken Soup For the Soul books. They encouraged people to send in personal stories that were funny, inspiring, and touching. Before personal essays became the career-launching scourge they are today, Chicken Soup presented them in curated little collections. In the library of over 250 books, there are some volumes for cat lovers, some for pre-teens, some for writers, some for parents of autistic kids, and definitely some that speak directly to you and your uniquest situations and traits.
Notably, a Chicken Soup book came out after 9/11. It was full of stories about heroism, love, and acceptance after unspeakable tragedy. The need for stories like that hasn't dissipated in the Internet age, of course. The popularity of Humans of New York tells us that much. The only thing that has changed, truly, is how the stories are shared. Facebook and Twitter have taken over for the Chicken Soup brand, giving those with a story to tell a platform to do it and giving those in need of inspiration or comfort somewhere to turn.
About three weeks ago, a video of staff at an ice cream parlor kicking out a man who was yelling Islamophobic things at some hijabi women made the rounds on Twitter. Today, a new story has popped up on Facebook to take its place. If you are the sort of person who likes this sort of sappy story about community togetherness and disavowal of intolerance, read on.
Amaira Hasan shared the story of her eventful ride on New York City's F train two days ago. In it, she described the way a man began yelling at two hijabi women in her train car, but was shut down by a diverse group of commuters.
Of course, the event she described took place less than two days after a man who professed a devotion to ISIS shot up a gay nightclub, killing 49 and wounding 53. That timing is what makes this story most notable, considering that a gay man is said to have been among those who defended the women.
Certainly, as with the Chicken Soup books, there is no way to determine if that really happened, at least as it was told. It could be argued that even if the stories are complete fiction, there is value to them, still, as they give hope to readers and describe what a more accepting world could look like.
Anyway, I've spent a lot of time on the F train and I have seen some pretty zany stuff. A car full of people yelling at someone making a scene doesn't really seem that out-of-the-ordinary.
[image via screengrab]
For more from Lindsey, head to Twitter or Facebook.
Have a tip we should know? tips@mediaite.com