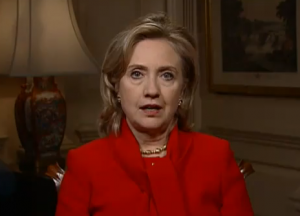 The It Gets Better Project has been a tremendous viral success with tons of videos being uploaded including those by the folks at Google and a Texas councilman. Hillary Clinton added her name to the list yesterday, releasing a new video entitled "Tomorrow Will Be Better" just in time for Spirit Day.
In the short video, Clinton pleads with troubled teens not to take their life and describes the many accomplishments of LGBT individuals in the State Department. She also compares the struggle of sexual minorities to those of women as well as racial minorities.
"Your life is so important—to your family, your friends, and to your country. And there is so much waiting for you, both personally and professionally— there are so many opportunities for you to develop your talents and make your contributions.

And these opportunities will only increase. Because the story of America is the story of people coming together to tear down barriers, stand up for rights, and insist on equality, not only for themselves but for all people. And in the process, they create a community of support and solidarity that endures. Just think of the progress made by women just during my lifetime, or ethnic, racial and religious minorities over the course of our history —and by gays and lesbians, many of whom are now free to live their lives openly and proudly. Here at the State Department, I am grateful every day for the work of our LGBT employees who are serving the United States as foreign service officers and civil servants here and around the world. It wasn't long ago that these men and women would not have been able to serve openly, but today they can—because it has gotten better. And it will get better for you."
It's curious that Clinton would change the title from the ubiquitous "It Gets Better" to "Tomorrow Will Be Better." Perhaps she was trying to create a little distance between herself and the project's founder Dan Savage with some of his edgier comments. Whatever the case, the message is the same and the video is now on the home page of the project's YouTube channel.
We can only hope and pray that the project will end up being as successful in the real world as it has been online. If it's only half as such, we can expect a vast number of lives will be improved or even saved.
Have a tip we should know? [email protected]