CNN's Almighty Debt Looks At African American Financial Crisis – And The Church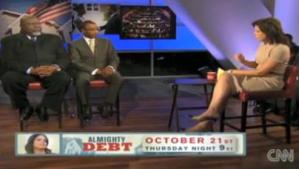 CNN's award-winning "In America" series of documentaries has ranged from Black In America to Gay In America. Tomorrow's special, premiering at 9pmET, takes on a specific issue.
Almighty Debt: A Black in America Special looks at the economy, religion and African Americans.
Mediaite attended a satellite taping of a panel which will air after the special tomorrow night, hosted by Soledad O'Brien. She says African Americans are the group that is "most religious and hardest hit in the economy on every level."
O'Brien said that what started as a special about black churches in general, eventually narrowed specifically to the topic of debt. And the stories in the special were part informative, part heartbreaking. For the panel, Bishop T.D. Jakes of the Potter's House and Pastor DeForest Buster Soaries of the First Baptist Church in New Jersey were the main guests.
"Every year the attendance has grown as the economy has gotten worse," said Soaries of black churches. This, at a time when "financial literacy in this country is at an all-time low."
O'Brien didn't hold back in asking the difficult questions – including whether churchgoers hit by debt and financial crisis should still tithe 10%. While Bishop Jakes said, "No one wants people to be stuck in the name of Jesus," both he and Pastor Soaries thought tithing was important on many levels, even for those who have been hard-hit by the economy. Still, "you can't buy God and you can't bribe God," said Soaries.
Author Terrie Williams contributed to the panel, and stressed the importance of not trying to hide when there's trouble (a theme of the documentary as well). "We have to redefine what strong is," she said. "Strong is letting the tears flow. It is a healthy sign of relief. Strong is knowing when you need to go and talk to someone."
Besides learning to cope when struggling, Soaries also said African Americans "need to learn how to manage our success." Soaries closed the panel relatively hopeful:
I'm frustrated because I'm old, and I've been at this a long time. But for every ounce of frustration, there is a testimony of good news. Every single Sunday, someone reports that they've changed their lifestyle, they've bought some insurance, they've started a savings account.
Here's more from the Daily News about the special. And below, a clip from the panel:


—–
» Follow Steve Krakauer on Twitter
Have a tip we should know? tips@mediaite.com