Hours After Mocking Intelligence Community, Trump Takes Assange's Side on Russian Hacking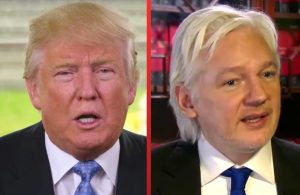 It seems that when it comes to Russia's interference in the election, President-Elect Donald Trump has decided to put his faith in WikiLeaks founder Julian Assange rather than America's intelligence services.
Trump apparently jabbed at the intelligence community on Tuesday night, saying it was "very strange" that his upcoming briefing on "so-called Russian hacking" was postponed until Friday.
The "Intelligence" briefing on so-called "Russian hacking" was delayed until Friday, perhaps more time needed to build a case. Very strange!

— Donald J. Trump (@realDonaldTrump) January 4, 2017
This comes as Trump continues to dismiss the notion that foreign hacking made it easier for him to win the general election, even as multiple intelligence agencies have linked the interference back to the Kremlin. For his part, President Obama has imposed new sanctions on Russia over their alleged meddling.
Fox News aired an interview with Assange on Tuesday night, where Sean Hannity asked the WikiLeaks founder if he got his hacked Democratic National Committee emails from Russia. Assange denied that that was the case, and he claimed that a 14-year-old would've been capable of hacking the Democrats' email networks.
Evidently, that was good enough logic for Trump, who decided to slam the DNC for being penetrable instead of the hackers who broke in:
Julian Assange said "a 14 year old could have hacked Podesta" – why was DNC so careless? Also said Russians did not give him the info!

— Donald J. Trump (@realDonaldTrump) January 4, 2017
"@FoxNews: Julian Assange on U.S. media coverage: "It's very dishonest." #Hannity pic.twitter.com/ADcPRQifH9" More dishonest than anyone knows

— Donald J. Trump (@realDonaldTrump) January 4, 2017
Somebody hacked the DNC but why did they not have "hacking defense" like the RNC has and why have they not responded to the terrible……

— Donald J. Trump (@realDonaldTrump) January 4, 2017
things they did and said (like giving the questions to the debate to H). A total double standard! Media, as usual, gave them a pass.

— Donald J. Trump (@realDonaldTrump) January 4, 2017
[Image via screengrab]
— —
>> Follow Ken Meyer (@KenMeyer91) on Twitter
Have a tip we should know? tips@mediaite.com