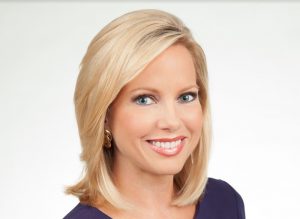 Yesterday, it was announced that after months of speculation and negotiation, Megyn Kelly will be leaving the network that made her a household name. With the reigning queen of cable news defecting from Fox, who will step up? We already floated a fun poll by you, but let's focus on one person who could be the "sleeper candidate."
Shannon Bream is a familiar face to Fox News fans and Mediaite readers. Some of the headlines this site has filed away under her tag include, "Fox Anchor Wonders When We're Getting a Men's History Museum," 'Fox Anchor Grills Hillary Surrogate over Emails: Doesn't She 'Have Herself to Blame?'," and, "Fox Anchor Confronts O'Malley: Why Didn't You List ISIS as a Priority During Debate?"
Compare those soundbites to Kelly's biggest hits on Mediaite like, "The (Race) War on Christmas: Megyn Kelly Declares 'Santa Claus Just Is White' and So Was Jesus," and,  "Megyn Kelly: Hillary Clinton Was 'Too Chicken' to Come On My Show,"  and it starts to look like Bream really is the rightful heir to the throne.
She and Kelly have a lot in common too. Both women were lawyers before moving over to cable news and neither is interested in being just another pretty blond woman with a set of legs and big wardrobe budget. For proof, look how Bream responded to a Twitter users who said that "she … is all leg":
Well, I did use those legs to walk across the stage and collect my law degree w honors … if that's what you're referring to. Then, yes. https://t.co/x63jQNsttK

— Shannon Bream (@ShannonBream) December 27, 2016
Speaking of Twitter, a whole bunch of people on that platform are rooting for Bream.
Mr.@rupertmurdoch ,I've been in broadcasting for close to 48 years,may I suggest @ShannonBream to replace @megynkelly ,she's a perfect host.

— Mark C. Pizzolato (@mcpizzolato) January 4, 2017
Let me strongly endorse @ShannonBream to replace @megynkelly on @FoxNews at 9p–whip smart, knows Cap Hill & SCOTUS, hosting exp. Dynamite!

— Matt Mackowiak (@MattMackowiak) January 4, 2017
@ShannonBream 9 PM is all yours! You deserve it!

— Kirk Manning (@Kfmanning) January 4, 2017
@ShannonBream Has anyone started the Shannon Brean for 9pm Campaign yet? Calling all @LibertyAlumni and current @LibertyU students

— Terry Thomas (@volleyballdad) January 4, 2017
@ShannonBream ** Hope Murdock considers YOU replace kelly's time-frame ! LOVE UR REPORTING & GOOD LUCK with FOX ! U R bright star with FOX.

— AmericanTRUMPeteer (@ksrtwit) January 4, 2017
It goes on like that.
What do you think? She has it all: clicky soundbites, tough questions, a law degree, and an already-devoted following. Is she the next 9:00 superstar? Might Tucker Carlson move up two hours so she could be the new face of 7:00? Or maybe another Fox lawyer, The Five co-host Kimberly Guilfoyle who has been widely discussed as a candidate, will get the nod? There are a lot of possibilities, but it remains to be seen what Fox brass will do.
[image: screengrab]
This is an opinion piece. The views expressed in this article are those of just the author.