'How Irresponsible, How Cruel': Vince Foster's Sister Slams Trump For Stirring Up Suicide Controversy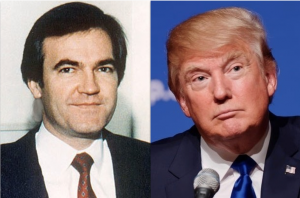 It is the newest conspiracy theory of sorts to make its way to the desk of Donald J. Trump. After a lengthy and well-documented history of believing in conspiracies and even allowing them to permeate the campaign trail, his latest hit is earning scorn from all the wrong places.
As a way to ding the armor of the Clinton camp ahead of the likely general election summer months, Trump has been invoking the name of Vince Foster, a one time Clinton aide who was found dead in 1993. After five investigations into Foster's death, it was ultimately ruled a suicide.
However, that hasn't stopped Trump from calling the circumstances of Foster's death "very fishy," 23 years later. "[Foster] had intimate knowledge of what was going on [with the Clintons] said Trump to the Washington Post. "He knew everything that was going on and then all of a sudden he committed suicide."
As the WaPo fact-checker Glenn Kessler put it earlier this week, the evidence into Foster's death was, "…examined, dissected, discussed, investigated two decades ago — and found to be not material. The fifth probe lasted three years — and still found nothing."
And despite a rather bizarre CNN interview where a Senior Trump Advisor double triple quadrupled down on the Foster line of rhetoric, the sister of the late Clinton aide has now spoken up against Trump.
Sheila Foster Anthony wrote in the Washington Post in response, "In this interview, Trump cynically, crassly and recklessly insinuated that my brother, Vincent W. Foster Jr., may have been murdered because 'he had intimate knowledge of what was going on' and that Hillary Clinton may have somehow played a role in Vince's death."
"How wrong. How irresponsible. How cruel," she continued, before denouncing Trump further for using her brother as a campaign talking point to earn favor over a political rival. "Never for a minute have I doubted [suicide] was what happened."
She scathingly continued:
"This is scurrilous enough coming from right-wing political operatives who have peddled conspiracy theories about Vince's death for more than two decades. How could this be coming from the presumptive Republican nominee for president?… For Trump to raise these theories again for political advantage is wrong. I cannot let such craven behavior pass without a response."
—
[images via Twitter and Wikipedia Commons]
Have a tip we should know? tips@mediaite.com