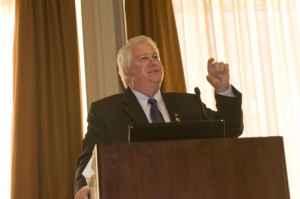 Once upon a time, a time before Monica Lewinsky, a chauvinistic, clubby press often gave male politicians at the highest levels of government a relatively free pass on their sexual affairs. A limited circle of insiders might know what was up, but that'd be it. But now, thanks to the Internet, the misdeeds of someone as lowly as an assemblyman — a Republican Yorba Linda assemblyman named Michael Duvall — can become national news in the blink of an eye. Here's how:
CBS local affiliate KCAL-TV Los Angeles got ahold of a tape of Duvall boasting about an affair with lobbyist Heidi Dejong Barsuglia during an assembly meeting in July, apparently unaware that he was speaking over an open mic. KCAL ran it on television last night. On the tape, he talked about spanking her, the "little eyepatch underwear" she wears, and the other woman he was having an affair with; it's no surprise that the tape made a big impact in the LA area, especially considering that Duvall was a conservative, family values politician.
OC Weekly also wrote an excellent blog post on their coverage of the developing Duvall scandal, which remains the best source of substantive information about it. Not only does it have solid shoe-leather reporting, it has lines like "'Their relationship is the worst-kept secret in Sacramento,' a capitol staffer recently told me. 'He's old and fat. She's hot, blonde and about 20
 years younger. He could have never gotten a woman like that before he got
 this job.'"
Then, this morning, Drudge lieutenant Andrew Breitbart posted the video on Breitbart.tv, getting the obligatory Drudge Report shout-out. It quickly mushroomed: Hot Air, Queerty (talk about odd bedfellows), Time, and now even Mediaite ran it within hours.
According to KCAL's website, Duvall resigned this afternoon, saying that "it would not be fair to my family, my constituents or to my friends on both sides of the aisle to remain in office."
Here's the notorious video:
Have a tip we should know? [email protected]