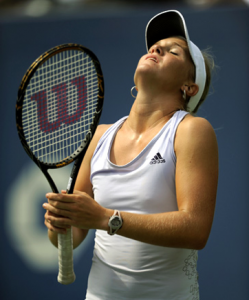 Is the Internet scummy enough to exploit a 17-year-old tennis sensation's sexuality to drive traffic? Or are there just not enough pictures of her in a bikini or plucking balls out of her skirt to throw together a sexy photo gallery or two? Sex Watch is here to see how our link-baiting friends across the Internet are raising traffic — and eyebrows — on the coattails of a young blonde, 5-foot-6 Melanie Oudin, as she tears through the US Open women's draw.

• Slideshows: They're such an easy way to drive clicks, especially when plenty of sweaty flesh is involved: two weeks ago it was 'Oh, a Vegas dancer/bikini model was just murdered — slideshow!' And even though Oudin doesn't exactly have the portfolio of a bikini model, that's not stopping anyone from compiling extensive picture sets. Wow — check out those … quads?
FOX, The Daily Beast, ABC News and Life all have slideshows.
• 15-year-old Boyfriend Watch: To hear the press tell it, Austin Smith, Oudin's 15-year-old boyfriend, is kind of the man right now. Can you imagine being, like, a sophomore in high school and dating a senior — that would rule. Forget that she's good at tennis.
People led with the boyfriend angle: "Tennis's latest giant-killer is all of 5'6″-tall, just 130 lbs., and is not ashamed to say she has 15-year-old boyfriend. On Monday, Melanie Oudin's Cinderella story continued with the Georgia native's upset of 13th-seeded Nadia Petrova."
Associated Content's Jillita Horton indulged in some speculation about the teenage pair's sex life: "Well first of all, that assumes that Melanie and Austin are having sex. If Melanie Oudin has half a brain, she is NOT having sex, as this would risk a pregnancy."
• Salacious Commenters: It seems from the relatively subdued content in this week's Sex Watch, that at least a few websites have some sense of propriety. That said, their commenters certainly don't.
Deadspin: There was a time when she would've been offered many a place to stay in the Times Square area if she was willing to make an appearance in a small film.
AP Youtube Channel: "Melanie can slap my balls any time she wants!"
Photo courtesy of Getty Images.
Have a tip we should know? tips@mediaite.com