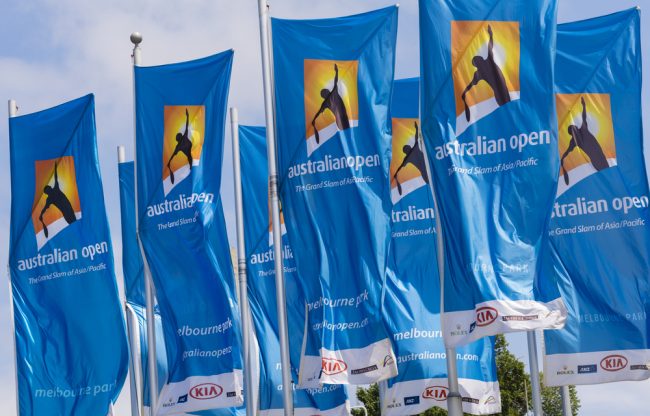 It is, in the opinion of many experts, the greatest rivalry in the history of tennis. Some might go further, perhaps, and declare it one of the greatest rivalries in the history of sports. This much is certain: On Sunday in Melbourne, tennis fans will be treated to a most improbable renewal of the storied rivalry between two of the greatest players of all-time: Roger Federer and Rafael Nadal.
Both players have been fighting injuries. Both are well past their prime. It simply hasn't mattered over these magical two weeks.
Federer is playing his first official tournament since July. As the 17th seed, he pulled a very tough draw. But he's overcome it with a mix of determination and veteran savvy. He enters off of a five-set thriller against Stan Wawrinka, a match in which he raced to a two-set lead, squandered it, then recovered to win the fifth.
Nadal is coming off a semifinal thriller of his own — slugging it out with Grigor Dimitrov for more than four hours on Friday. He benefitted from a slightly easier draw than Federer, but it doesn't matter at this point. They're both here, set to duke it out one more time.
Federer is bidding for his 18th Grand Slam title. Nadal his 15th. Federer already has the mark for the most in history. A win Sunday would move Nadal past Pete Sampras into second on the all-time list.
Nadal has a 9-2 advantage in Grand Slam matches between the two. (Although Federer backers will be quick to point out that five of these matches took place on the clay courts at Roland Garros, Nadal's preferred surface. While Nadal often did not advance far enough to face Federer during many of his prime years at Wimbledon or the US Open, where Federer would have had a clear advantage.)
Nonetheless, this unexpected late-career showdown between the two legends may help determine which of them truly is the best. If Nadal can eventually match or exceed Federer's 17 Slams, the argument that Federer is the greatest of all-time would become that much harder to make.
The match begins at 3:00 a.m. ET. ESPN will air it live in all time zones. It will also be streamed online, via WatchESPN, free with a cable subscription. The Watch ESPN app can be downloaded from the iTunes, the Google Play store, and the Windows store.
[image via ymgerman – Shutterstock.com]
Have a tip we should know? tips@mediaite.com