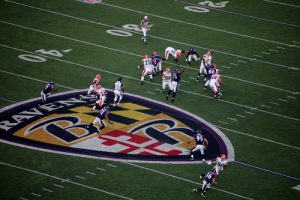 With the television audience for primetime NFL games down across the board, league executives have been looking forward to the end of the Presidential election, which they believe adversely impacted their ratings. Now, the first post-election primetime game is finally here. And who will be showcased to the country tonight? The winless Cleveland Browns.
Yes, the Cleveland Browns will show off their ineptitude for a national audience tonight when they take on the Baltimore Ravens. The Browns enter off of a blowout home loss to Dallas on Sunday, and they appear to be headed for the No. 1 draft pick. Their first meeting with the Ravens this season was actually the closest they came to notching that elusive victory. But they blew a 20-2 lead and dropped a 25-20 decision to the NFC North co-leading Ravens.
Indeed, the Ravens sit atop the division along with Pittsburgh despite a mediocre 4-4 record. That's largely because the division has managed to go a combined 1-7-1 against the NFC East this season. And so 4-4 puts the Ravens very much in the ballgame. A home win on Thursday would, in fact, put them at the top of the heap.
Kickoff is at 8:25 p.m. ET. The game will be broadcast on the NFL Network, which will stream the game live on its website. NBC's Al Michaels and Cris Collinsworth have the call.  Use the NFL Mobile app to watch on your phone or tablet. That app can be downloaded from the Apple App Store, the Google Play store, and the Windows Store. A cable subscription is required for the free stream.
[image via Daniel M. Silva – Shutterstock.com]
Have a tip we should know? tips@mediaite.com