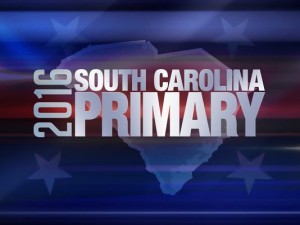 Following the Iowa Caucus and the New Hampshire Primary, the Republican party will hold the South Carolina Primary for the remaining field of six. The Palmetto State is the final stop before Nevada, and the campaigns are hoping for enough momentum to still be in-play heading into March 1's Super Tuesday contests.
Jeb Bush, Donald Trump, Ted Cruz, Marco Rubio, Ben Carson, and John Kasich are all that remains from the field that for months was double-digit in size. The storylines out of South Carolina for the GOP side have been fast, bizarre, and even steeped in controversy. Frontrunner Trump and Texas Senator Ted Cruz are hoping to repeat some of their successes from the first two states, while candidates like Bush and Carson need some sign of vitality to continue to be contenders much beyond Saturday.
Fox News Channel's Bret Baier and Megyn Kelly will coanchor America's Election Headquarters from 7PM-10PM/ET Saturday. Other Fox News programming throughout the day will focus on South Carolina primary returns, the Nevada Caucus where the Democrats are battling it out, as well as the funeral of late Supreme Court Justice Antonin Scalia. Watch Fox live HERE.
3PM-5PM/ET: America's Newsroom co-anchored by Bill Hemmer & Martha MacCallum
5PM-6PM/ET: The Five
6PM-7PM/ET: Special Report with Bret Baier
7PM-10PM/ET: America's Election Headquarters co-anchored by Bret Baier & Megyn Kelly
10PM-11PM/ET: Hannity
11PM-12AM/ET: Justice with Judge Jeanine
CNN's America's Choice 2016: The South Carolina Republican Primary coverage begins tomorrow evening at 6pmET, anchored by Wolf Blitzer, Jake Tapper and Dana Bash live from the CNN Election Center in Washington, D.C. John King will report throughout the night from the DC Magic Wall.
CNN correspondents including Sara Murray, Sunlen Serfaty, Manu Raju, Athena Jones, Brian Todd and Phil Mattingly will report live from throughout South Carolina.
Analysts and commentators will include Gloria Borger, Nia-Malika Henderson, David Axelrod, Michael Smerconish, Van Jones, S.E. Cupp, Ron Brownstein, Amanda Carpenter and Jeffrey Lord. Anchors John Berman and Kate Bolduan will pickup the coverage at 11pm-2amET. Watch CNN live HERE.
MSNBC's "Place for Politics" coverage will be anchored by Rachel Maddow and Brian Williams live from the South Carolina Republican Primary, while Chris Matthews will cover the Democratic battle in Nevada. From South Carolina, Thomas Roberts will anchor from Columbia at 7 a.m. ET and "Morning Joe" will hail live from Charleston from 8-10 a.m. ET. Tamron Hall will report live from a polling site in Columbia and reporting live from campaign headquarters will be Gabe Gutierrez from Marco Rubio's campaign, Hallie Jackson from Ted Cruz's campaign, Kelly O'Donnell from Jeb Bush's campaign, and Katy Tur from Donald Trump's campaign. Watch MSNBC live HERE.
Watch ABC's coverage below:

ABC Breaking News | Latest News Videos
Watch NBC's Coverage below:
Watch local South Carolina coverage below, via WCSC & Fox Carolina:
Watch the Trump "Watch Party" below:
Have a tip we should know? tips@mediaite.com