Howard Stern On Marines Urinating On Dead Taliban Fighters: 'So What'; Dave Navarro Agrees
Howard Stern On Marines Urinating On Dead Taliban Fighters: 'So What'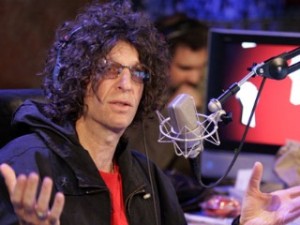 XM radio host Howard Stern and Jane's Addiction guitarist Dave Navarro got into a discussion on the morality of the Marines who urinated on the corpses of dead Taliban fighters. "You're a nineteen year-old-kid, they put you in a situation– where you have the US Military, their job — they're the ultimate defenders of this country; this is all born out of we were attacked, they blew up the World Trade Center. A young brave man goes over there. He's watching his buddy get blown up. This is their reality. He's at war with an enemy that will drive a truck by, say hello, blow his legs off and kill him. Now all of a sudden, you're fighting the guy. He's shooting bullets into you, you're shooting back, couple of your bodies died, you get done with an intense battle, you're alive, you get out of it without a scratch, you're f*cking crazed, you're scared out of your mind, but you defended your country. You take out your c*ck and you piss on the enemy. You know what? So what. That's war."
RELATED: Goldie Taylor Calls Out CNN's Dana Loesch On CNN Over Urinate-Gate
"In Vietnam, we cut off their ears, you gotta get worked up, it's your life or their life," Stern continued. "You killed a guy, what do you care about pissing on him?"
"When you put it that way, I'm surprised they only urinated on them." Navarro replied. "Right, Robin?"
Co-host Robin Quivers disagreed. "I hear what you're saying, but I think we always have to strive to be better."
Stern brought up the fact that Navarro's mother was murdered and asked him whether he would urinate on the body of the killer.
"More than likely," Navarro opined.
"Now you understand," Stern said.
Navarro said he had seen the graphic photos of the Marines desecrating the corpses and said his first reaction was, "Wow, that's really f*cked up."
"And then I thought about it and — I don't have any concept of what these guys are doing," Navarro observed.
"And neither do I," Stern added.
"Let me say one thing, they do represent us," Quivers quibbled.
"I'm sorry, it's war." Stern maintained.
Stern and Navarro join Bill Maher and Dana Loesch who made similar statements last week.
Listen to Stern and Navarro defend the Marines below, warning contains explicit language:

(
h/t Breitbart.tv
)
Have a tip we should know? tips@mediaite.com