Huma Abedin Sent Sensitive Info On Yahoo Account… Which May Have Been Part of 'State-Sponsored' Breach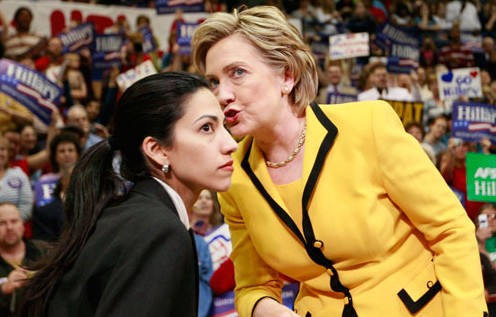 Top Clinton aide Huma Abedin's use of private email may have been vulnerable to hackers.
According to an FBI report obtained by the conservative watchdog group Judicial Watch, Abedin used a Yahoo account if her official State Department account was down or if she needed to print an email or document. This was back when she served under then-Secretary of State Hillary Clinton. In the report, Abedin explained that "it was difficult to print from the DoS system so she routinely forwarded emails to her non-DoS accounts so she could more easily print."
It wasn't known to the public until 2016 that Yahoo suffered from multiple major data breaches by a "state-sponsor actor" and that over 1 billion accounts were affected between 2013-2015.
As Luke Rosiak of The Daily Caller reports, Clinton's deputy chief of staff regularly forwarded work-related emails with sensitive information to her personal Yahoo account, humamabedin@yahoo.com. She also had an email that was linked to Clinton's private server, huma@clintonemail.com, as well as her official work email, abedinh@state.gov.
Many of emails obtained by Judicial Watch were redacted. However, Abedin did send emails that contained passwords to official government accounts. One email that was forwarded to Abedin's Yahoo account was sent by Clinton ally Sid Blumenthal. The subject read "Important. Not for circulation. You only. Sid." and read "CONFIDENTIAL… Re: Moscow Summit," at the top of the highly-redacted email.
When Abedin was asked by the FBI about an email specifically regarding her Yahoo account, she said she "did not recall" receiving such an email.
Per The Daily Caller:
Contemporaneous news reports documented the security weaknesses of Yahoo while Abedin continued to use it.  Credentials to 450,000 Yahoo accounts had been posted online, a July 2012 CNN article reported. Five days later, Abedin forwarded sensitive information to her personal Yahoo email.

Abedin received an email "with the subject 'Re: your yahoo acct.' Abedin did not recall the email and provided that despite the content of the email she was not sure that her email account had ever been compromised," on Aug. 16, 2010,  an FBI report says.
[image via screengrab]
Have a tip we should know? tips@mediaite.com