'I Made a Stupid Mistake, I'm Human': Ryan Lochte Gets Absolutely Grilled on Rio 'Immaturity'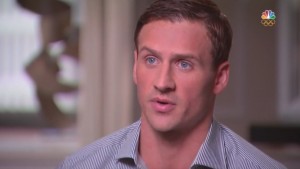 In the main segment of the interview between NBC's Matt Lauer and embattled swimming star Ryan Lochte, the Olympic athlete got drilled for the repercussions of his antics in Rio last weekend.
"I wanted to make sure they were home safe before I talked," Lochte told Lauer in direct reference to his swimming teammates who were held up in Brazil on account of questioning stemming from inconsistencies in their stories. "I'm embarrassed — for myself, my family, those guys, USA swimming, the whole Olympic games. Everyone watching."
Lochte first told TODAY's Billy Bush on Sunday that he and three of his USA swimming teammates were robbed at gunpoint: Gunnar Bentz, Jack Conger and Jimmy Feigen.
"I overexagerrated that story. If I didn't do that, we wouldn't be in this mess… none of this would've happened it was my immature behavior," Lochte said in a portion of the Lauer hit that aired earlier today. "I was immature and I made a stupid mistake. I'm human," he continued.
Lochte, who added one gold medal from the Rio games to his lifetime collection, said the phrase, "…I learned my lesson," at least half a dozen times during his sit down with NBC.
Lauer grilled the swimmer, hitting him with everything from the shame on the host country to the legal fees paid by his teammates, to the possibility of losing endorsements, and how his fellow athletes had storylines stolen from them because of his actions.
The Olympic swimmer focused his answers instead on his immaturity "for one night."
"They watched my tantics, [sic]" he told Lauer of the global population. "My deepest apologies… I learned my lesson."
"I definitely know I can turn this around, and be that role model for little kids," he offered.
—
[image via screengrab]
Have a tip we should know? tips@mediaite.com