iFed: Using Social Media (Er, And Money) To Feed Hungry New Yorkers This Thanksgiving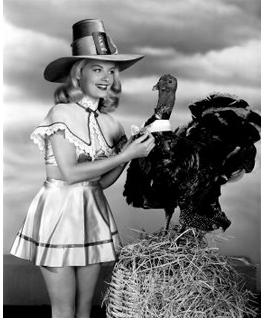 Thanksgiving is a relatively new tradition for me. Being a Canadian, ours comes a month earlier — with the 10 cm sheet of ice that blankets the country from October to May — and we never had much of a tradition other than sawing ice blocks off for the igloo or wrestling bears to the ground for sport. But here in your country, Thanksgiving is HUGE — the first big family holiday of the chillier months and the gateway drug to a holiday season of massive, gut-busting eating. I have availed myself happily at many a friend's table, worn Pilgrim hats, taken goofy photos with paper turkeys, and, last year after Sarah Palin ruined the whole turkey thing for me, enjoyed a delicious vegetarian Thanksgiving dinner that was served to me between naps. I really, really like your holiday.
But not everyone is so lucky. This Thanksgiving, the economy sucks (not to put too fine a point on it. But how else do you describe 10.2% unemployment nationwide?). In New York, where Mediaite is based and where Mayor Bloomberg rules the city with a shaky mandate, there will be a lot of people going hungry on Thanksgiving.
Here is the part where you help!
Enter Robin Hood's Food for Good campaign (an initiative I've been part of). Robin Hood, New York's leading poverty-fighting organization, has teamed with FreshDirect to deliver holiday meals to feed 120,000 New Yorkers in need. $50 covers the cost and delivery of a complete holiday meal for eight (including turkey, stuffing, sides – the works), with 100 percent of all proceeds going to the cause.
(What's that? You want to donate right now? Why, go ahead!)
Two things make this year different for philanthropy: The recession and social media. Both were around and obviously influential last year, but this is one year later, after the explosion of Twitter and the implosion of the economy. The bad news is, the economy sucks (see above); the good news is, there are so very many more ways in which to reach people one year later. That's where iFed comes in.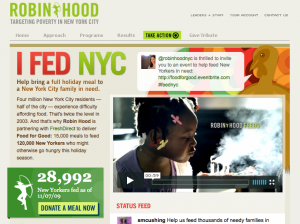 iFed is actually shorthand for how Robin Hood's Food For Good (aka "The Charitable Campaign Name With The Most "OO"s Ever") is using social media. Basically, we are going after you WHEREVER YOU ARE. So if today you've noticed a whole bunch of tweets along the lines of
@jimmyfallon Help us feed thousands of needy families in NYC this Thanksgiving: http://bit.ly/SsBRd Please RT? #feednyc
…well then you've seen the OO's in action. We're not only tweeting for donations, we're tweeting for awareness, hence the mass-messaging. (Also, note the "Please RT" — Brian Solis, we are listening! Now please RT.)
There's also a "favorite holiday memory" tweet-meme plus feeds in from Flickr, Facebook and Twitter, plus a running donation count of hungry New Yorkers fed by the campaign (currently at 28,992). It all runs through the iFed page, which serves as your personal iFed hub for all giving and OO-related activities. This, incidentally, includes attendance at oh, just the biggest blow-out iFeeding-double-OO-ing NYC bash ever: One $50 donation gets you a ticket to the November 12 Food for Good par-tay at M2, hosted by Tiki Barber (I know! I think he's hot, too!) plus a bunch of other boldface types. But really it will just be fun, made more fun because it will result in doing something good for people who need it.
With more than 1.3 million people now relying on emergency food in this city, New York is experiencing a true crisis. Things are tough right now for everyone but if you can donate, this will make a very real difference. Even if you can't — we know, we know, it sucks — it doesn't cost anything to tweet. Join me in harassing Jimmy Fallon and Rainn Wilson, won't you? And if you donate and send me proof of donation here, I will make up a funny Thanksgiving memory that I wish we'd shared, and tweet about it. And then our crack team of social media mavens including Soraya Darabi, Rachel Sterne, Brooke Mooreland and Julia Kaginsky will blow you Twitter kisses and then when you meet them at the party it will be awkward, like it always is when you meet people you make friends with online in real life.
But that's the Internet! It's a magical, magical place this holiday season — so won't you donate? Or tweet? Or Facebook? Or come to the event? Seriously, it's not like we're not giving you options. But they all lead to the same place: This Thanksgiving, we just want you to say one thing: "I FED!"
Thanks from your OO's,

Robin Hood Food For Good
Have a tip we should know? tips@mediaite.com