In New Profile, The Blaze's Tomi Lahren Addresses Rumors She Will Join Trump Media Network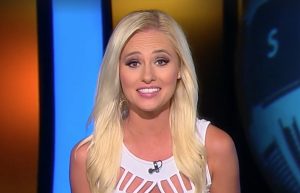 Mediaite readers are familiar with The Blaze's Tomi Lahren and the rumor that Donald Trump is going to launch a big Sarah Palin-style media empire if he loses in November.
Lahren is a real conservative firebrand. She's loud, she's proud, and she's becoming increasingly famous in a political atmosphere fueled by viral videos. That's why The Ringer published a big profile on her today.
Of her employer, which is the legacy-cementing work of Glenn Beck, she said this:
I want to do more with digital. I want to have an outlet where no one tells me no. I get more Facebook views each night than all of the Fox personalities combined, and my salary is crumbs compared to what they bank.
She is only on contract there for another year, so where will she go when that expires?
"An outlet where no one tells [her] no" might just mean that fabled Trump media channel. Of that, though, the profile only said this:
Despite the rumors of a Trump media organization emerging should he lose the election, Lahren's priority is independence. "I wouldn't join any news network unless it gave me the ultimate freedom and creative control," she says. The strategy only makes sense: On the internet, there is no ABC News. There is no Fox News. There isn't even TheBlaze. There's just Tomi, speaking to the camera.
Interestingly, this may mean that she goes on to do her own thing or launch her own channel. Considering that her monologues regularly get millions of views after she shares them to her Facebook page, it only seems natural for her to eliminate the middle man, be he Beck or Trump.
[image via screengrab]
This is an opinion piece. The views expressed in this article are those of just the author.