Inside Edition Trots Out Old Video of O.J. Simpson At Marla Maples' and Trump's Wedding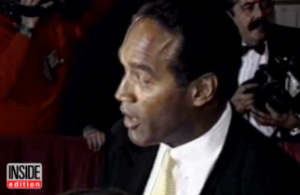 Lately, there has been renewed interest in all things 1990s. For instance, I am currently wearing a denim vest and have a scrunchie in my hair. I got lunch with a friend today who was wearing a choker and a spaghetti-strap tank top. Whether you love it or loathe it, 1993 is back. Still don't believe me? Consider the following:
O.J. Simpson is the talk of the town all over again since FX has been airing The People vs. O.J. Simpson: American Crime Story, which just so happens to conclude tonight.
Marla Maples is on Dancing With the Stars.
Oh, yeah, and Donald Trump is running for president.
Over at Inside Edition, someone who manages the archives is probably having the best day ever. Look at the video they unearthed of Trump and Maples' wedding and put out today:
Is that… why, yes, it's Simpson himself, talking to reporters at the wedding about the love between Maples and Trump. Here's what he said only six months before being arrested for the double murder of his ex-wife Nicole Brown-Simpson and her friend Ron Goldman:
I think everybody in the country believes maybe their relationship can work if this relationship can work.
IE reported that at the time of the wedding, Trump was $800 million in debt. They also pointed out that Rosie O'Donnell was among the guests at the wedding. Knowing what we know about the relationship now, that's almost as surprising as Simpson's poetic opining on true love.
Anyway, make a night of it and check your local listings to see when you can catch Inside Edition's whole report this evening, then watch American Crime Story at 10:00 p.m. EST and party like it's 1993.
[image via screengrab]
For more on resurgent fashion trends and relentless reality shows, follow Lindsey on Twitter.
Have a tip we should know? tips@mediaite.com