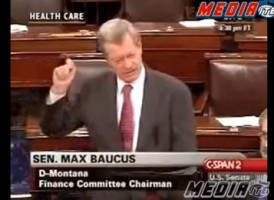 I finally got around to watching the now-famous (thanks to Drudge) video of Democratic Montana Senator Max Baucus' tirade on the Senate floor, which the right has touted as evidence of the Senator's intoxication. That's a pretty serious accusation, and one that would normally require better corroboration than this. Jason Linkins at HuffPo points out that Baucus is a fluent speaker of Mumblican, and has the video to prove it.
In my search for another explanation, I discovered an alternate theory that actually springs from the left: Baucus' speech has been affected by a head injury.
In case you missed it, here's the video that's getting so much attention:
Here's the video that HuffPo's Jason Linkins points out:
Politics make strange bedfellows. As chairman of the Senate Finance Committee, Max Baucus has come under heavy fire from the left for cutting a sweetheart deal with PhRMA, and for influence exerted on him by the healthcare lobby. This missive from Superman actress and activist Margot Kidder got my attention:
Talking with Max is like talking with drywall: he nods at whatever you say and he'll smile vacantly at you for hours on end, but you're never quite sure if he's home or if he's just had one motorcycle accident too many.
It's interesting that, prior to the current flap, it was someone on the left who brought up Baucus' injuries to attack him. The Montana Democrat is a bit of a contradiction. Not only has he faced stiff criticism from the left, but his 2004 Republican opponent also dropped out over accusations of gay-baiting for this ad:
Not the kind of thing you'd normally expect from a Democrat, is it?
As it turns out, the motorcycle injury explanation has been slowly making the rounds on blogs, but it's not entirely accurate. Stories like this US News profile of Baucus may have contributed to the confusion.
Baucus was, indeed, in a motorcycle accident in July of 2004, but he didn't sustain the head injury then. Although a witness saw him hit his head, he was wearing his helmet, and received only minor cuts and bruises.
Earlier that year, however, Baucus did undergo emergency surgery to relieve pressure on his brain. He injured his head in a fall during a 50 mile race (and finished the remaining 42 miles!) in November of 2003. The brain bleed went undetected until January, when he was hospitalized with a subdural hematoma, whose symptoms include "inability to speak or slurred speech."
Baucus told reporters then that he expected to make a "full recovery."
Several years later, in 2007, Senator Baucus again fell and injured himself during a run, receiving only minor cuts and bruises.
Baucus' office hasn't returned requests for comment, but I imagine they'd stick to what's already on the record:
(Baucus spokesman Ty) Matsdorf said Baucus gave a "passionate defense" because he felt that Kennedy, a lifelong proponent of health care reform, was being used "as a cheap foil to oppose health care reform."

"Unfortunately, those who want to kill any meaningful reform turned (Baucus' speech) into an unfounded, untrue personal smear (and) Internet rumor," Matsdorf said. "It is this type of slander that makes Montanans, and Americans, disgusted with the politics as usual in Washington. And what is even more sad is that such a personal attack would be given any validity at all, let alone being elevated to the status of 'news.' "
Additionally, after each of Baucus' accidents, his office said he was given a clean bill of health.
While the traumatic brain injury explanation would be an attractive way to shame conservatives, similar to the John McCain computer flap, it doesn't appear to be all that helpful to Baucus.
However, even if the injury were a factor, it wouldn't indicate diminished overall capacity on Baucus' part. According to Dr. Gregory O'Shanick, National Medical Director of the Brain Injury Association of America, "In general, even after one has recovered from a traumatic brain injury, in situations of profound fatigue, severe illness, or after a surgical procedure using general anesthesia, one can experience a transient return of symptoms."
While Senator Baucus' medical history might seem to raise red flags, you have to keep in mind that the Senator runs all the time, and is a motorcycle enthusiast. In that light, a few minor spills don't seem that noteworthy. Similarly, if you watch the video again with Ted Kennedy in mind, it's easy to understand how Baucus could be angered into less-than-perfect diction.
Have a tip we should know? [email protected]