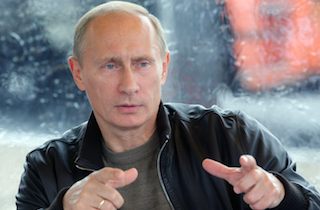 If President Barack Obama, who spent the last few days giving speeches about education at Georgia Tech and appearing on Jimmy Kimmel Live, were to disappear from public view for more than a week, Americans would notice. So now that Russian President Vladimir Putin hasn't been seen in public since March 5, rumors have sprung up that he may have fallen ill or be otherwise indisposed.
Putin canceled a trip to Kazakhstan this past week, prompting an unnamed Kazakh government official to tell Reuters, "It looks like he has fallen ill." After that, the hashtag #ПутинУмер or "Putin is dead" began to crop up on social media, with critics cracking jokes about the various ways he could have been killed or buried.
In response to the rumors, Putin's spokesperson Dmitry Peskov, told Reuters that the president was in fact in good health. "He has meetings all the time," he said on Thursday. "He has meetings today, tomorrow. I don't know which ones we will make public."
RELATED: After Nemstov Assassination, Conservatives Have a Putin Problem
On Friday, Switzerland tabloid Bick complicated things by claiming that Putin, who divorced his wife of 30 years in 2013, flew to that country to join his rumored lover Alina Kabaeva, who had allegedly gone into labor with his baby. But according to Peskov, "information about the birth of a baby fathered by Vladimir Putin does not correspond to reality."
Russian state television finally attempted to squash the rumors about Putin once and for all on Friday, releasing this footage of the president holding a meeting. Though the Kremlin reportedly did not specify when exactly the meeting took place, leading some to believe that it was pre-taped before the alleged disappearance.
Watch video below, via AP:
[Photo via Wikimedia Commons]
— —
>> Follow Matt Wilstein (@TheMattWilstein) on Twitter
Have a tip we should know? tips@mediaite.com