ISIS Blasts Anonymous 'Idiots' After Hackers Declare 'Total War' on Militant Group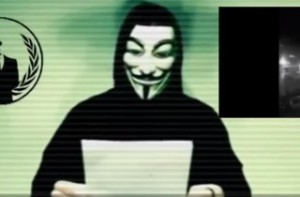 The day after Anonymous declared "total war" on ISIS, operatives for the Islamic State blasted the vigilante group, calling the hacktivist collective "idiots."
Using Telegram, an encrypted messaging app, an ISIS-affiliated account shared a memo =that read, "The #Anonymous hackers threatened in new video release that they will carry out a major hack operation on the Islamic state (idiots)." The memo was shared by supporters of ISIS and corroborated by SITE, an intelligence organization that analyzes communications among jihadist groups.
The militants insisted Anonymous has only managed to access the Twitter accounts and e-mails of jihadists thus far, rhetorically asking ISIS followers, "What they gonna hack?" The memo also provided instructions on how to avoid hackers, telling supporters to change their IP addresses frequently and to avoid speaking with strangers over messaging apps and social media.
ISIS' message follows a video posted by Anonymous Monday, where a representative in a Guy Fawkes mask vowed to launch "the biggest operation ever" against the militant group to avenge the victims of the Paris terror attacks.
Earlier today, @OPParisOfficial — Anonymous' official account for "Operation Paris" — said the hacktivist collective took down 5,500 Twitter accounts linked to supporters of the Islamic State. The account also leaked details on suspected Islamic extremists.
Alex Poucher, a spokesman for Anonymous, told RT the group's "capability to take down ISIS is a direct result of our collective's sophisticated hackers, data miners, and spies that we have all around the world," adding the collective has people "very close to ISIS on the ground."
"They picked a fight with Anonymous when they attacked Paris, and now they should expect us," Poucher said, adding the hackers, "will not sit by and watch these terror attacks unfold around the world."
[Image via screengrab]
—
>> Follow Elizabeth Preza on Twitter (@lizacisms)
Have a tip we should know? tips@mediaite.com