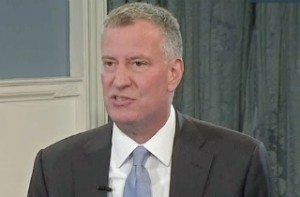 New York City Mayor Bill de Blasio spoke out in support of Syrian refugees today, writing in a statement that closing the U.S. borders to those fleeing violence would "hand the terrorists a victory over our democracy."
"We should not close our borders to any group of people fleeing the atrocities and horrors of terrorism," de Blasio said, adding that doing so diminishes the freedom cultivated "over the years by Americans who died or risked their lives for it."
"We are a strong country," de Blasio continued, suggesting the United State can simultaneously "protect our country" and "accept refugees seeking our protection."
"New York City is a proud immigrant city, and we will not turn our back on that history or the people being persecuted and fleeing war," de Blasio said.
The mayor's comments comes on the heels of a dramatic pushback by governors, lawmakers, and Republican candidates across the United States.
As of Tuesday afternoon, dozens of state governors ––mostly Republicans––declared they would not accept Syrian refugees into their states. Though state governors have little legitimate authority for resisting migrants approved by the federal government, the political message is clear; several U.S. lawmakers in Washington called for an immediate halt of Syrian refugees for the time being.
De Blasio also criticized New Jersey governor Chris Christie, who has said he would not accept any Syrian refugees, including orphans under the age of five.
"Because Chris Christie is an elected official, his comment is an embarrassment to this country," de Blasio said, adding if the governor "were in any other profession" it would be dismissed outright "for the callous, heartless and prejudiced statement that it is."
Referring to Republican presidential candidate Donald Trump's suggestion that the United States should increase surveillance on mosques, de Blasio said, "first and foremost, we always will abide by the U.S. Constitution which prohibits discrimination against religions," adding the United States "will adhere to the words of our Founding Fathers, not Donald Trump."
"Mosques don't commit acts of terrorism. People do. NYPD will investigate the crime, not close down places of worship," de Blasio said. "ISIS does not discriminate and has killed members of many races and religion."
"The Muslim community is as deeply concerned about terrorism as other communities are. NYPD investigates the crime, not a group of people. That will not change," de Blasio concluded.
[Image via screengrab]
—
>> Follow Elizabeth Preza on Twitter (@lizacisms)
Have a tip we should know? tips@mediaite.com