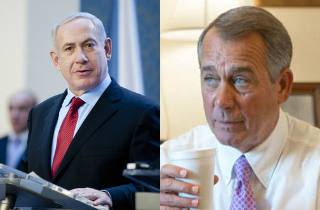 A geopolitical grade school feud has erupted in the past few weeks, in which House Speaker John Boehner (R-OH) invited Prime Minister Benjamin Netanyahu to address Congress without coordinating with the White House, a move considered breach of protocol. In return the White House signaled President Barack Obama would not meet with Netanyahu during his visit, followed by rumors Democratic lawmakers will skip Bibi's speech.
Missing in all this is Netanyahu's thinking. An Israeli official gave a clue to that on Friday, when he said Boehner had essentially misled the Israeli leader by claiming the speech had bipartisan support.
"It appears that the speaker of Congress made a move, in which we trusted, but which it ultimately became clear was a one sided move and not a move by both sides," said Deputy Israeli Foreign Minister Tzachi Hanegbi on Tel Aviv radio, per Reuters.
This is the second time an Israeli spokesperson has portrayed Boehner as snookering the Israelis for his own political purposes. Last week Israeli Ambassador to the U.S. Ron Dermer said the Israeli had assumed Boehner would clear the invitation with the White House.
However Hanegbi said now that the arena has been secured Netanyahu would not back out. "The Republicans know, as the president has already made clear, that he will veto this legislation," Hanegbi said. "So in order to pass legislation that overcomes the veto, two-thirds are required in the Senate. So if the prime minister can persuade another one or two or another three or four, this could have weight."
[h/t Reuters]
[Image via yakub88 / Shutterstock.com]
——
>> Follow Evan McMurry (@evanmcmurry) on Twitter
Have a tip we should know? tips@mediaite.com