New Orleans Paper Questions Whether Brian Williams Actually Saw a Dead Body During Katrina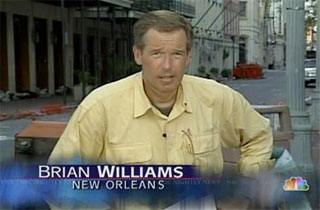 As the media draws extra scrutiny to Brian Williams' work following his admission of falsely retelling a dramatic Iraq War story, a New Orleans newspaper is questioning his other great feat of reporting: did he actually experience many of his riveting accounts during his coverage of Hurricane Katrina?
The New Orleans Advocate, a century-old paper based in Louisiana, dismantled two incidents that Williams recounted during his "harrowing" reporting in New Orleans during Hurricane Katrina. His first claim — that he saw a dead body float by his hotel in the French Quarter — sickened him during his reporting, Williams initially claimed in 2006: "When you look out of your hotel window in the French Quarter and watch a man float by face down, when you see bodies that you last saw in Banda Aceh, Indonesia, and swore to yourself that you would never see in your country." However, the French Quarter is above sea level and did not experience any flooding during Katrina — much less enough flooding that could have allowed a dead body to float by.
The second part of his account was recounted to Tom Brokaw as recently as last year: "I accidentally ingested some of the floodwater. I became very sick with dysentery," he said. "Our hotel was overrun with gangs, I was rescued in the stairwell of a five-star hotel in New Orleans by a young police officer. We are friends to this day. And uh, it just was uh, I look back at total agony."
When the Advocate asked a former New Orleans health official whether people suffered from dysentery during Katrina, however, they got a flat denial:
Dr. Brobson Lutz, a former city health director who manned an EMS trailer that was set up in the 900 block of Dumaine Street, a block from his house in the French Quarter, said he was a fan of Williams but dubious of his claims.

"We were never wet. It was never wet," he remarked of the conditions in the city's most historic neighborhood.

As for dysentery, "I saw a lot of people with cuts and bruises and such, but I don't recall a single, solitary case of gastroenteritis during Katrina or in the whole month afterward," Lutz said.

As for Williams saying he accidentally drank floodwaters, Lutz added, "I don't know anybody that's tried that to see, but my dogs drank it, and they didn't have any problems."
Though the flooding of New Orleans was one of the biggest and gripping events of 2005, many of the stories emerging from Katrina were criticized by local and regional papers as highly embellished. In particular, the Times-Picayune made it their mission to correct the national mainstream media's tendency to over-dramaticize the effects of Katrina — stories of mass violence and child murder, for instance, certainly did not happen — though many outlets eventually corrected their coverage.
To date, according to the Advocate, Williams has not changed his narrative.
[The New Orleans Advocate]
[Image via screenshot/NBC]
—
>> Follow Tina Nguyen (@Tina_Nguyen) on Twitter
Have a tip we should know? tips@mediaite.com