Ivanka Trump Seemingly Brushes Off Latest Campaign Headlines, Calls Politics 'a Bloodsport'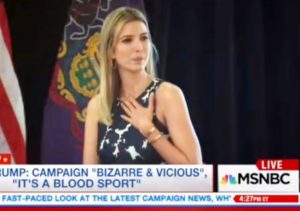 Ivanka Trump has been notably absent from the campaign trail as news of her father's alleged (and, at times, documented) proclivity for sexual assault has broken over the last six days. Some headlines have included her, too: An interview during which she asserted her father "is not a groper" circulated, as did old footage of Donald Trump giving Howard Stern permission to refer to her as a "piece of ass."
Today, she reemerged and went to Pennsylvania, where she campaigned in Philadelphian suburbs that the Trump campaign needs to win. Her events were called "Coffee With Ivanka." Here is a clip from one of them:
She joked that nothing can prepare a person for having their parent run for President, saying she hadn't expected it to be so vicious or such a "bloodsport."
According to a few different reporters, she answered strikingly similar questions at each of her four Coffee with Ivanka stops.
Ivanka Trump has taken functionally the exact same 3 questions at both of her PA events today, @LACaldwellDC reports

— Kasie Hunt (@kasie) October 13, 2016
The questions were bland…
Ivanka is answering questions like, What inspired you about your dad? No questions yet about the groping/assault allegations yadda yadda.

— emily nussbaum (@emilynussbaum) October 13, 2016
…and inspired some to wonder if the questions were planted.
Ivanka Trump now fielding same planted questions she did as previous Philly burb event, like: "What's the secret to your success?"

— Bobby Allyn (@BobbyAllyn) October 13, 2016
Today, she did not answer — or even receive — any questions about the accusations of sexual assault her father is facing.
While she has not commented on the scandals that have rocked the campaign since last Friday, her brother Donald Trump Jr. has said that the leaked audio of the GOP nominee talking about grabbing women "by the pussy" proves that he's "normal."
[image via screengrab]
Have a tip we should know? tips@mediaite.com