Jake Tapper Blasts 'Slime Coated' and 'Lying' Fox News Over 'Allahu Akbar' Comment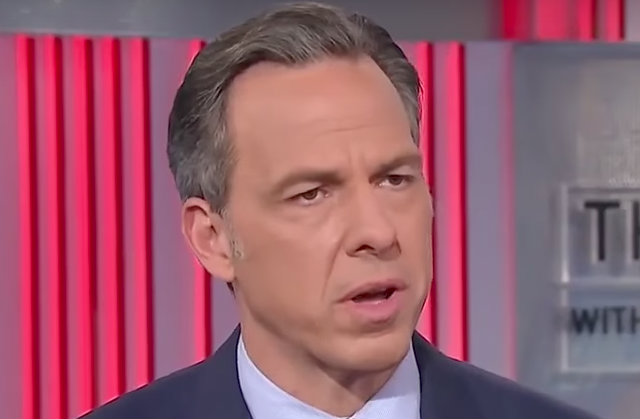 CNN's Jake Tapper called out Fox News on Twitter tonight for "lying" about comments he made during coverage of the NYC terror attack.
Yesterday, after it was reported that the terrorist was heard saying "Allahu Akbar," Tapper said, "The Arabic chant, Allahu Akbar––God is great––sometimes said under the most beautiful of circumstances, and too often we hear it being said in moments like this."
The clip got pickup from Breitbart yesterday, and eventually it made it to Fox News today:
.@CNN 's Jake Tapper Says 'Allahu Akbar' Is 'Beautiful' Right After NYC Terror Attack https://t.co/SQ2DWKAUpr

— Fox News (@FoxNews) November 1, 2017
The clip played on Fox News during a segment (video below) on how the media has covered the attack. Former Congressman and current Fox Newser Jason Chaffetz teed up the clip:
And in response, Tapper unloaded:
Fox News is lying. I said it can be said at beautiful moments (wedding, birth) and too often at times like this (horrific terrorist attack). https://t.co/rQx3r0za6I

— Jake Tapper (@jaketapper) November 1, 2017
"Allahu Akbar" is a prayer; if we don't understand how radical Islamic terrorists justify their evil using religion, West cannot defeat it

— Jake Tapper (@jaketapper) November 1, 2017
.@FoxNews chooses instead to deliberately lie about what I said. Following the slime-coated path of @DailyCaller and @infowars. Disgusting.

— Jake Tapper (@jaketapper) November 1, 2017
And yes, I know they do this all the time. Still, literally the day after this horrific attack that they would launch this smear — it's sick

— Jake Tapper (@jaketapper) November 2, 2017
UPDATE 8:30 p.m. ET — Fox News has deleted the tweet which drew Tapper's ire. Further, Chaffetz has apologized for his comments.
In retrospect I don't think I gave @jaketapper a fair shake tonight. My bad.

— Jason Chaffetz (@jasoninthehouse) November 1, 2017
Tapper has added a few more Tweets:
I ignored the lie for a day. It started with some kid at @DailyCaller. Then to @infowars and @BreitbartNews. Now it's on TV…where next?

— Jake Tapper (@jaketapper) November 2, 2017
There was a time when one could tell the difference between Fox and the nutjobs at Infowars. It's getting tougher and tougher. Lies are lies https://t.co/stYjntoJUq

— Jake Tapper (@jaketapper) November 2, 2017
Saddest thing about him is he doesn't even believe it — he's playing his viewers for suckers. It's all an act, as he has testified

— Jake Tapper (@jaketapper) November 2, 2017
[image via screengrab]
— —
Follow Josh Feldman on Twitter: @feldmaniac
Have a tip we should know? [email protected]
Josh Feldman - Senior Editor