James Carville Likens Grover Norquist to 'Pond Scum' and 'Dry Humping Teenagers'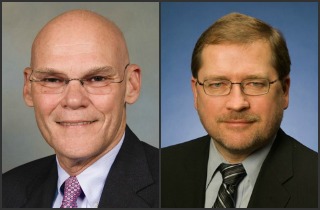 Politics drives people to say ugly things about other people. For example, look no further than James Carville's letter this week to the LSU student newspaper, in which the famed Democratic strategist likened anti-tax activist Grover Norquist to "pond scum" and suggested his no-tax pledge is like trying to keep over-sexed teenagers from going all the way.
His letter came in response to Republican Gov. Bobby Jindal and a group of state lawmakers refusing to raise taxes by signing a pledge with Norquist's Americans for Tax Reform.
"Our beloved university is being systematically dismantled and as a result of our Governor and a significant portion of our Legislature (twenty-six) pledging allegiance to a Washington lobbyist with the long history of shady dealings," Carville wrote. "Your future earnings and the quality of your education is being adversely affected by the fact that a pledge was signed to a Washington operator by the name of Grover Norquist that under no conditions could taxes be raised."
He then rattled off three "things you need to know" about Norquist, calling him 1) an "anti-tax fanatic" with "shady" links to convicted felon Jack Abramoff; 2) "the human equivalent of pond scum," who was a "fellow traveler of pond scumite Abramoff"; and 3) "the most powerful person in our state."
So yeah, it should be clear that Carville does not like Norquist. But then came the comparison of Norquist's pledge to teenage sex:
…[T]he Governor and Legislature constantly refer to how can they maintain their purity, or as it is sometimes referred to, their "tax virginity." You have to be kidding me. This reminds me of two over-sexed teenagers dry humping in a backseat of car parked behind a levee wondering how far they can go while maintaining their purity or virginity. We are literally at the mercy of buffoons and comedians. While they're humping, our university burns. Our only recourse is to stand up and fight for ourselves.
Of course, if you thought the "pond scum" line would rankle some feathers, Carville updated his letter on Thursday with an addendum:
Since the publication of my Letter to the Editor yesterday, I have received a considerable amount of comments on my comparison of Grover Norquist to pond scum. As someone who has spent so much time in the public square, I understand how words and characterizations can be hurtful and unfair to those involved in the comparisons. After prayer and deep reflection and consultation with my spiritual and ethical mentors I am forced to take a step I rarely approach in my public life and that is to apologize to- pond scum.
— —
Have a tip we should know? tips@mediaite.com