Hot on the h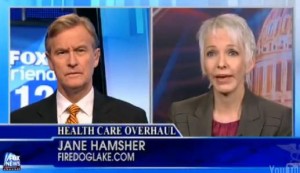 eels of her controversial appearance on Fox & Friends, Firedoglake founder Jane Hamsher has joined forces with conservative activist Grover Norquist to demand the resignation of Rahm Emanuel.
The strange bedfellows, which the New York Times' Caucus blog calls "one of the strangest odd-couplings since James Carville and Mary Matalin married," sent a letter to Eric Holder yesterday, demanding Rahm's immediate ouster. Today, Deputy Press Secretary Bill Burton was asked about it aboard Air Force One.
Hamsher and Norquist allege that Emanuel has been blocking an investigation of his role as a member of the board of Freddie Mac, hoping to ride out the statute of limitations. You can read the full letter at Firedoglake.
Coming so soon after Hamsher's Fox News appearance urging progressives to kill the current health care reform bill, this could well be the rollout of a new strategy for Hamsher. Emanuel is seen by many on the left as the scapegoat for selling out popular reform policies like the public option. Is this a shot across the administration's bow? Will we see Hamsher scribbling on Glenn Beck's chalkboard next?
If so, the White House doesn't seem to be worried about it.  From today's press gaggle aboard Air Force One: (via email)
Q    Is Rahm going to keep his job despite Jane Hamsher and Grover Norquist?

MR. BURTON:  I have the feeling that Rahm's job is very safe.
Still, the fact that this thing went from Hamsher's blog to the White House's face in less than 24 hours is an indicator that, love it or hate it, the nascent "frenemies" strategy is at least effective at getting attention.
Have a tip we should know? tips@mediaite.com