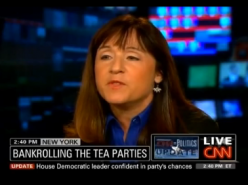 A few weeks back New Yorker scribe Jane Mayer penned a much-discussed piece about the nefarious backroom dealings of the billionaire Koch brothers. The article, titled 'Covert Operations: The billionaire brothers who are waging a war against Obama,' detailed how the Koch brothers were throwing money at organizations that undermined President Obama and trickled down to essentially fund the Tea Party (something both Koch's had previously and vehemently denied).
Response to the article varied from surprise, to surprise that the Koch's were being cast as such villains (they fund many, many programs), to shrugs from people familiar with the Koch's financial dealings (which have been well-covered in other places over the years).
Meanwhile, suffice to say, the Kochs were not pleased with the article. David Koch told The Daily Beast that the piece was "hateful…ludicrous" and "plain wrong."
"If what I and my brother believe in, and advocate for, is secret, it's the worst covert operation in history," Koch says, in reference to the New Yorker headline, adding that a lengthy letter to the magazine, rebutting nearly every allegation in the story is in the works.
Of course, all of those rebuttals might not have been necessary if Koch had just spoken to Mayer in the first place. Over the weekend she told CNN that she'd repeatedly tried to contact the brothers to no avail and that the "tremendous amount of information" they claim to have provided the New Yorker with was actually "just stuff on their website." Mayer's segment below.
Have a tip we should know? tips@mediaite.com