Rothman: Jeb Bush Overreaches, Suggests Vatican Embassy Move Is 'Retribution' Against Anti-Obamacare Catholics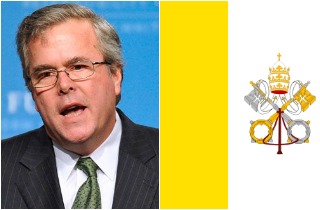 The normally measured and thoughtful former Florida Gov. Jeb Bush issued one of his more baseless attacks against President Barack Obama's administration on Wednesday in a tweet he will surely come to regret. Reacting to the State Department's decision to cut costs by moving America's Vatican embassy to the larger U.S. diplomatic complex in Rome, Bush suggested this was a maneuver designed to punish American Catholics who have expressed opposition to the Affordable Care Act.

Echoing a similarly baseless charge issued by the National Republican Senatorial Committee which had ill-advisedly charged that the embassy's move was "just the latest anti-religion pursuit of this administration," Bush went a step further.
RELATED: GOP Group Attacks Obama as 'Anti-Religion' for Moving U.S. Embassy in Vatican
"Why would our President close our Embassy to the Vatican?" Bush asked via his Twitter account. "Hopefully, it is not retribution for Catholic organizations opposing Obamacare."

While there has been no official reporting on whether the Vatican embassy move is, in fact, an elaborate form of revenge against America's Catholics, it's a safe assumption that it is not.
Both the NRSC and Bush have exhibited poor judgment in mounting this form of attack. There are plenty of legitimate avenues to criticize the decision to move the embassy: The most valid being that former ambassadors to the Holy See has protested the measure. They noted that, as a sovereign state, it is an insult and threatens bilateral relations to move America's diplomatic presence into neighboring country. The move could, in fact, jeopardize ties with the most influential religious establishment on earth.
All these criticisms and more would have been justified. Attacking the president as irreligious, an unfounded charge which is not supported by the president's own actions and statements, is not.
National Journal Editorial Director Ron Fournier had the best reaction to this attack on the president. In a tweet, Fournier suggested that that Bush's ridiculous observation prompted him to repeatedly thrust his face into his desk. This self-flagellation was apparently a more preferable condition than having to think too hard about the Bush's nonsensical attack on this White House.
h/t Ron Fournier
[Photo via AP/Vatican ]
— —
> >Follow Noah Rothman (@NoahCRothman) on Twitter
Have a tip we should know? [email protected]