Jeb Bush Warns Romney Of 'Most Negative Campaign In Modern Times,' Addresses VP Rumors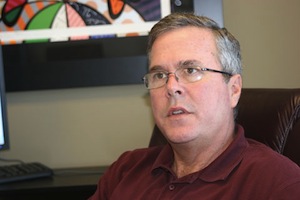 Jeb Bush talked to Newsmax about Mitt Romney and the upcoming general election, warning that we're likely to see the "most negative campaign in modern times." He advised Romney to stay "above the fray" — and he'd consider a VP offer, but doubts he'll get one.
On the topic of the "most negative campaign," Bush said, "There will be so much negativity and so many personal attacks against Gov. Romney. That's already been telegraphed that that's going to happen."
Romney, he said, should try to rise above it. "I think Mitt needs to stay above the fray a bit, and to offer a hopeful message that can lift people's spirits up because after the end of this four or five months of really negative campaigning," he said. "I think people are going to be motivated by a more positive message."
Asked about ever-debated "veepstakes," Bush offered up a name that's already been heavily circulated: Marco Rubio. He's "probably the best" choice, Bush said.
"Well I can't speak for Gov. Romney, and I can't speak for Sen. Rubio, but if I was on both sides of that conversation I would ask — and I would hope that Marco would accept," Bush said. "There's a lot of things in between that may not make that happen, but I am a great admirer of Mitt Romney's and I'm a huge fan of Marco Rubio's, and I think the combination would be extraordinary."
As for himself? "Well I'd consider it, but I doubt I'll get a call, and I don't know if it's the right thing for me to do," he said. "I didn't run for president for a similar kind of reason, so I'm all in to try to help him get elected."
In addition to Rubio, Bush's other VP picks include Ohio Sen. Rob Portman, New Jersey Gov. Chris Christie, Virginia Gov. Bob McDonnell, Louisiana Gov. Bobby Jindal, New Mexico Gov. Susana Martinez and Indiana Governor Mitch Daniels. Christie, of course, was first constantly asked about a presidential run, and now his name's attached to speculation about the other spot on the GOP ticket. Portman, some have said, is highly likely to be Romney's pick — though the man himself doesn't think so.
Have a tip we should know? tips@mediaite.com