The National Report, a parody website that typically does a very good job hiding the fact that its stories are fake, put one over on Gawker's Jezebel site on Thursday. Jezebel's Erin Gloria Ryan posted an article under the headline "Sarah Palin Interviews Guy Who Calls the President 'Nigger Hitler'" that was based entirely on the fake story.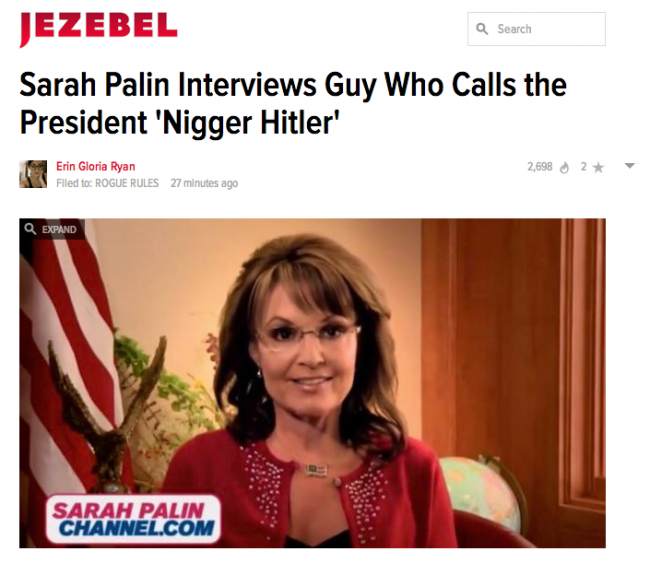 According to the fake National Report account:
Less than five hours after the launch of The Sarah Palin Channel, the fledgling online subscription-based network has landed itself in a major controversy, after a person being interviewed by Palin herself repeatedly referred to President Barack Obama using the highly offensive "N" word.
The post goes on to print quotes from the fictional George Seymour, 58, a coal miner from Bowling Green, Kentucky, whose words seem to bear an intentional resemblance to the real Cliven Bundy.
"I hate that n*," Seymour said angrily. "I call him `N* Hitler.' He wants to stick everyone that don't agree with him in concentration camps [and] make us wear the mark of the beast. He's a Muslim, gay-loving n* Hitler and there's not a day that goes by where I don't wish he was dead or in jail."

Palin seemed nonplussed with regards to Seymour's incendiary comments. "[Laughing] well George, that's the kind of honest opinion we're looking for here on the Sarah Palin Channel. Unedited real talk from a real American like yourself is always welcome here."
The National Report said that the video had been up on Palin's new subscription-based channel for just under six hours before it was "taken down," a fact that Jezebel repeated in its post. They even quoted liberal watchdog site Media Matters as predicting the video got between 9,000 and 15,000 views.
Like Michele Bachmann, whose history of saying outrageous things has made her an easy target for parody sites like this one, Palin's has had enough controversial moments that perhaps the idea of her launching her channel in this way was not all that surprising. Just this week, sites like ThinkProgress, Crooks and Liars and DailyKos aggregated a story that originated on The National Report claiming that Bachmann wanted to erect "Americanization" labor camps for undocumented children.
As one Jezebel commenter said, "This is a plausible thing that she could have done. But, really, having the n-word spelled out in full in the title and then again in the body of the piece, all for a fake tip… yeah, this is bad even by Jezebethean standards."
30 minutes after posting the article, Ryan updated it with the comment below:
[UPDATE: The site that reported on the interview is actually a parody site. Once again, my confirmation bias has led me astray. Consider me fooled, and chastened.]
The headline, which now reads "Sarah Palin Interviews Guy Who Calls the President 'Hitler' [Update]" was amended to remove the spelled out "n-word," but for some reason not to indicate that the interview never actually happened.
UPDATE — 3:14 p.m. ET: It looks as though Jezebel has scrubbed the page entirely.
[Photo via screengrab]
— —
>> Follow Matt Wilstein (@TheMattWilstein) on Twitter
Have a tip we should know? tips@mediaite.com